FIFA 22 Road to the Final: 5 Predictions for Who's In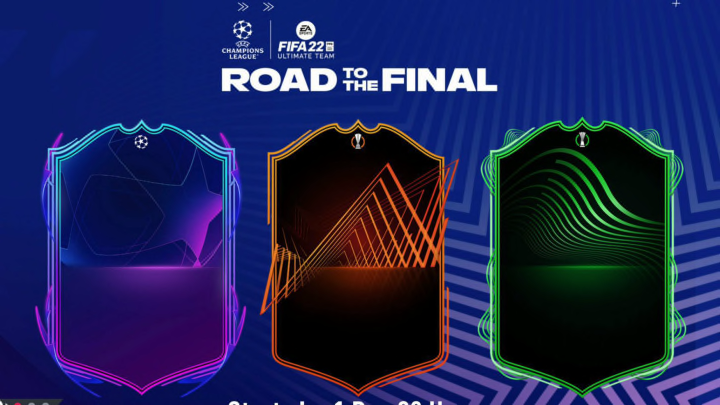 Road to the Final is Confirmed in FIFA 22 for Feb. 18 / Photo Courtesy of EA Sports
EA Sports have confirmed that there will be a Road to the Final promotion in FIFA 22. The yearly promotion coincides with the European competitions and gives players from teams in the tournament live cards that can be upgraded as their teams progress.
There are over 90 teams spread across the three European tournaments, so there are plenty of options of players from different teams to choose from in RTTF. Here are five predictions of players to expect in RTTF in FIFA 22.
FIFA 22 Road to the Final: 5 Predictions for Who's In
1. Presnel Kimpembe (CB, PSG)
Paris Saint-Germain v Real Madrid: Round Of Sixteen Leg One - UEFA Champions League / Quality Sport Images/GettyImages
Presnel Kimpebe is one of the most feared and overpowered cards in FIFA 22, despite only having an 83 rated gold card available. PSG have already won their first match against Real Madrid, 1-0, this past Tuesday, so PSG are currently the favorites to move ahead in the Champions League tournament. Therefore, if Kimpembe is chosen, he may be favored for an upgrade into one of the most dominant cards in FIFA 22.
2. Ansu Fati (LW, Barcelona)
Athletic Club v FC Barcelona - Copa Del Rey / Juan Manuel Serrano Arce/GettyImages
It's still a bit surprising to think of Barcelona in the Europa League, but the reality is that they did not advance in the Champions League for the first time in nearly 20 years. The team is still pretty much guaranteed to feature a card in FIFA 22's RTTF, and with all of the special Spanish players added to the game recently, why not add another with Ansu Fati. The youngster is one of the most promising youngsters to come out of La Masia, and will play plenty of games of Europa League Football for Barcelona if they advance, and a RTTF card would be a very nice addition to the pool of options from the team in FUT.
3. Aaron Wan-Bissaka (RB, Manchester United)
Manchester United v Wolverhampton Wanderers - Premier League / Matthew Ashton - AMA/GettyImages
Wan Bissaka would be a great option for Premier League teams if given an upgraded RTTF card in FIFA 22. With medium/high work rates and solid defensive stats, Wan-Bissaka doesn't get too much play time for Man U these days, but would be the first choice for many players in FUT. Wan-Bissaka links to many of the best players in the Premier League, and with the potential to be upgraded, would be a solid and valuable RTTF card.
4. Ademola Lookman (LM, Leicester City)

Leicester City v Tottenham Hotspur - Premier League / Clive Mason/GettyImages
Leakers have suggested that Ademola Lookman of Leicester City may be the player chosen for a Conference League RTTF card in FIFA 22. With four-star skill moves and weak foot, Lookman may be. good looking card when upgraded. Additionally, Leicester are the favorites in their opening match-up in the round of 32, so if they make a run, a Lookman card would be useful for those English teams in need of a solid LM/LW.
5. Anthony Martial (ST, Sevilla)
Sevilla FC v Elche CF - La Liga Santander / Fran Santiago/GettyImages
Recently loaned out to Sevilla, Anthony Martial will be helping the Europa League-bound Sevilla side try to repeat their 2020 success in the tournament. Martial currently had a top-tier Winter Wildcards item in FIFA 22 with his former club Manchester United, so perhaps EA would like to add him into this promo as well for his new team. It will likely not match his Winter Wildcard item on launch, but if Sevilla do well, a Martial card could hit plenty of upgrades throughout the road to the Europa League Final.