FIFA 22 Shapeshifters Promotion Leaked: Carrasco, Mukiele and More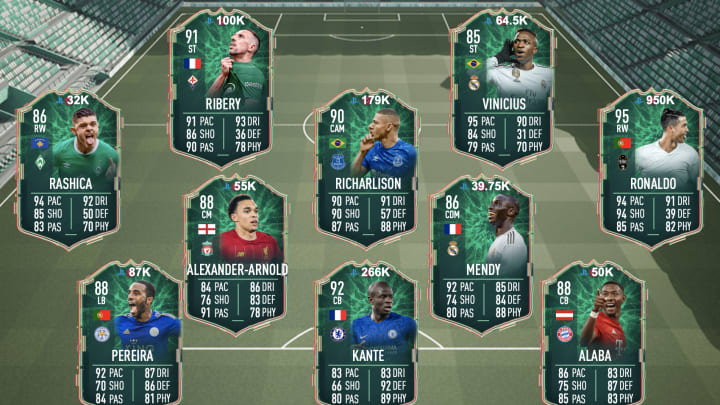 The next promotion after FIFA 22's TOTS has officially been leaked, and it appears that the Shapeshifters promo will make it's return to FUT. / Photo Courtesy of FUTBIN
The next promotion after FIFA 22's TOTS has officially been leaked, and it appears that the Shapeshifters promo will return to FUT. Shapeshifters will come with position changes and huge boosts to players' stats, according to notable FIFA leaker FutSheriff.
The promo will likely drop at the conclusion of Ultimate TOTS this Friday, and some of the cards have already leaked as well. Here's everything we know about the upcoming Shapeshifters promotion.
Shapeshifters Promotion Leaked: How does the Promotion Work?
In previous years, Shapeshifters has included plenty of changes to player cards in almost every facet, as well as big stat boosts. We haven't seen the promo since FIFA 20, however, almost every part of a card's stats are eligible for a "shapeshift."
We can see an example of changes with last year's FUT Freeze promo. In it, we saw position changes for players like Lautaro Martinez of Inter and Casemiro of Real Madrid to right-forward and center-back respectively. However, stats are also shifted, from boosts in pace and defending, to skill moves and weak-foot upgrades.
For that Martinez card last year, his preferred foot was also changed from right to left. Besides teams and nations, almost every part of a card's attributes are up for change, so promos like Shapeshifters are some of the more unique promos each year.
Shapeshifters Promotion 2022 Leaks so far
Some of the players included in the Shapeshifters promo have already been leaked, and they look to be very fun cards if they are legit.
Yannick Carrasco (CAM, Atletico Madrid)
Nordi Mukiele (CB, RB Leipzig)
Felipe Anderson (RW, Latium) SBC
Manuel Neuer (CM, Bayern Munich)
One of the more hyped leaks potentially coming is Manuel Neuer's position change from GK to CM, which will be the first time in FUT history that a goalkeeper has been position changed to an outfield player. Neuer played the midfield early in his career, so the Shapeshifters leak has reasonable evidence to serve its purpose.
With a GK to CM shapeshift, another potential card we can see is one that FIFA fans have asked for for nearly three years, a Kyle Walker GK card. While he may not be the best GK in the game, and he only played once for Manchester City in Goalkeeper when Ederson received a Red card during a match, players have sought out the novelty card in FUT ever since. With Neuer going from between the sticks to the outfield, it would be fitting for outfield players to make the switch reversed.
As more leaks are revealed for the Shapeshifters promo, we will update you here, but the full team should release on Friday, June 17.