FIFA
FIFA 22 Team of the Week 2 Released
By Max Mallow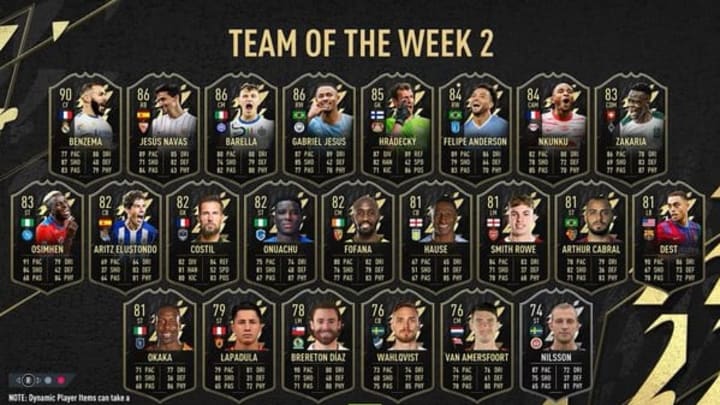 Photo by EA Sports
FIFA 22 Team of the Week 2 was released Sept. 29 at 1 p.m. ET featuring some top players across the board as players continue to improve their initial squads.
Team of the Week is a weekly promotion in which the best performing players from the latest week of matches receive performance based upgrades. These items make up the FUT Champions player picks as well for that week. It's been a relatively controversial promotion the past couple of years with players citing EA Sports' unwillingness to award high rated players in-forms at times.
FIFA 22 Team of the Week 2 Released
Team of the Week 2 is headlined by five cards this week:
Karim Benzema - 90 CF - Real Madrid
Jesus Navas - 86 RB - Sevilla
Gabriel Jesus - 86 RW - Manchester City
Denis Zakaria - 83 CDM - Borussia Monchengladbach
Sergino Dest - 81 LB - FC Barcelona
The two fullbacks from La Liga are sure to be expensive and popular among players. The top tier options at both positions in the league are small and both look like meta cards for FUT Champions. Denis Zakaria also looks like one of the best defensive midfielders in not only the Bundesliga, but the entire game.
Gabriel Jesus as a RW also opens up new options for players as he'll make a top striker.