FIFA 22 Team of the Year Attacker Nominees Revealed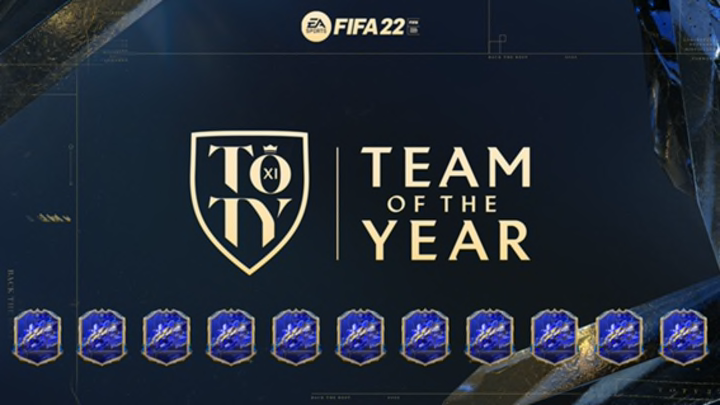 Photo by EA Sports
FIFA 22 Team of the Year attacker nominees were revealed Jan. 7 as fan voting for the first section of the promotion was made available.
Team of the Year is the most anticipated promotion on each FIFA Ultimate Team calendar. Fans eagerly wait every January for the best promotional squad of the year. Each player receives statistic boosts that make them top-tier cards for the rest of the game cycle. Players prepare for the event by saving up packs hoping to see that blue and gold flair pop up. These items are also traditionally some of the most expensive items in the game on the transfer market.
FIFA 22 Team of the Year Attacker Nominees Revealed
Here are the attacking nominees for FIFA 22 Team of the Year:
Karim Benzema - CF / Real Madrid
Cristiano Ronaldo - ST / Manchester United
Harry Kane - ST / Tottenham Hotspur
Romelu Lukaku - ST / Chelsea
Kylian Mbappe - ST / Paris Saint-Germain
Johnathan David - ST / LOSC Lille
Robert Lewandowski - ST / Bayern Munich
Erling Haaland - ST / Borussia Dortmund
Ciro Immobile - ST / Lazio (Latium in FIFA 22)
Lautaro Martinez - ST / Inter
Dusan Vlahovic - ST / Fiorentina
Luis Suarez - ST / Atletico Madrid
Gerard Moreno - ST / Villarreal
Neymar Jr. - LW / Paris Saint-Germain
Lorenzo Insigne - LW / Napoli
Mikel Oyarzabal - LW / Real Sociedad
Jack Grealish - LW / Manchester City
Dimitri Payet - LW / Marseille
Dusan Tadic - LW / Ajax
Mohamed Salah - RW / Liverpool
Lionel Messi - RW / Paris Saint-Germain
Federico Chiesa - RW / Juventus
A tightly contested list, but one that should produce some insane items in FIFA Ultimate Team. Three players from this group should make it in based on previous TOTY releases. The squads usually follow a 433 formation, but that doesn't mean that positionally. Just in terms of how players are released in packs individually.
For example, three attackers will be released, followed by three midfielders and rounded out by four defenders and a goalkeeper before all players are added to packs at the same time. Based on the list above and taking into consideration FUT community tendencies, Salah, Messi and Lewandowski should be the favorites here.
Stay tuned as the midfield and defense nominees are revealed in the coming days.