FIFA 22: Thomas Muller Bundesliga POTM: How to Complete the SBC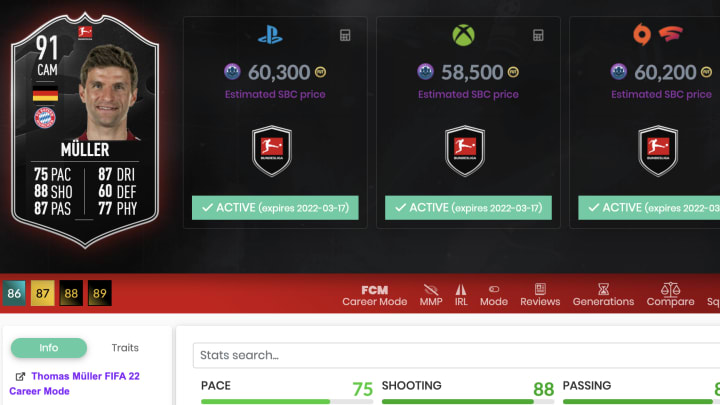 https://twitter.com/EASPORTSFIFA/status/1494325782163824649?s=20&t=8q_r7g_zoF23M63nez_WEA / Photo Courtesy of FUTBIN
EA Sports has confirmed that Bayern Munich's Thomas Muller has won the Bundesliga Player of the Month award for January. With the award win, Muller has also received a special 91 rated POTM Squad Building Challenge item in FIFA 22, available for a limited time.
Muller contributed four goals for Bayern in January, providing play along for one of Europe's top clubs. He outlasted a pool of nominees including rising stars Erling Haaland and Christopher Nkunku. Here's how to get the Thomas Muller POTM in FIFA 22.  
FIFA 22: Thomas Muller Bundesliga POTM: How to Complete the SBC
Muller's POTM SBC requires just one squad segment to complete with the following requirements. 
Team Overall Rating: Min. 84
TOTW Players: Min. 1
Bundesliga Players: Min. 1
Team Chemistry: Min. 65
For just one 84 rated squad with in-form, getting a 91 rated card in return is superb value, and Muller looks to be a solid card. His passing and shooting are well-rounded, and his dribbling apart from agility and balance is good as well. Place an engine on him to boost his dribbling and pace, and you've got a great CAM with plenty of linking options, including his POTM teammate Alphonso Davies.
There are a lot of options in the midfield in the Bundesliga, but some are very expensive, including Headliners or POTM Nkunku and the new Future Stars Florian Wirtz. Muller seems to be solid value for what you are putting in, especially for Bayern fans. 
Muller's POTM expires on March 17.