FIFA
FIFA 22 TOTW 3 Headlined by Heung-min Son, Phil Foden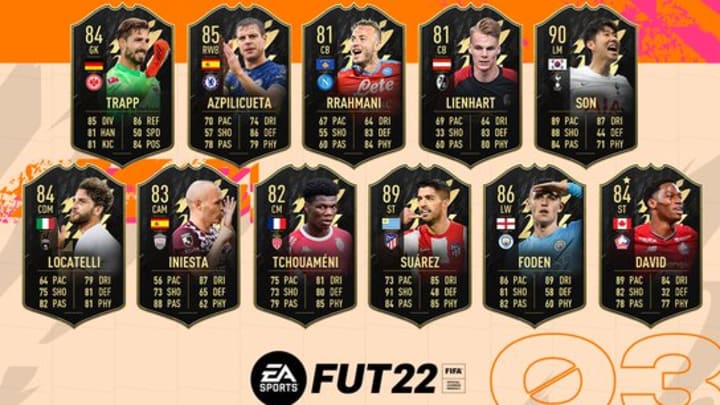 Photo by EA Sports
FIFA 22 TOTW 3 was announced and added to packs Oct. 6 at 1 p.m. ET and it's a better squad than many were expecting.
EA Sports releases a Team of the Week each week in FIFA Ultimate Team in which the best performing players receive upgraded items for a week. These cards also make up the player pool for the forthcoming FUT Champions rewards. Fans expected this week to be a bit lighter considering EA Sports' track record for handing out in-forms, but this squad has set an improved standard in the new title.
Here's a look at FIFA 22 Team of the Week 3.
FIFA 22 TOTW 3 Headlined by Heung-min Son, Phil Foden
Team of the Week 3 is an important one, not just for the players, but for what's to come in FIFA 22. First off, the featured TOTW item this week is Jonathan David. He's been upgraded from 78 to 84 and has a star on his card to signify the boost. He's got great pace and shooting to match his five-star weak foot.
Next, despite a 2-2 draw against Liverpool, EA Sports gave Manchester City's Phil Foden his first in-form of the year at 86. Some were critical considering Mohamed Salah had a stellar performance, but keep in mind Premier League POTM is around the corner.
Finally, fans were skeptical EA Sports would hand out in-forms for Ones to Watch cards so early on. There were some worthy picks last year around this time in the cycle, but EA Sports was resistant. Now, two Ones to Watch cards have already received upgrades: Anderson Talisca and Manuel Locatelli. Talisca was also an SBC so players still have some time to complete this card and already have an upgraded 84 item.
Finally, Heung-min Son makes TOTW 3. He only had an assist in Tottenham Hotspur's win against Aston Villa. Son was the standout player from the game, but in past FIFAs just an assist wouldn't be enough to get a player of Son's caliber an in-form.
Perhaps EA Sports has lightened up when it comes to TOTW in FIFA 22.