FIFA
FIFA 22 TOTW Upgrade: How to Complete the SBC
By Max Mallow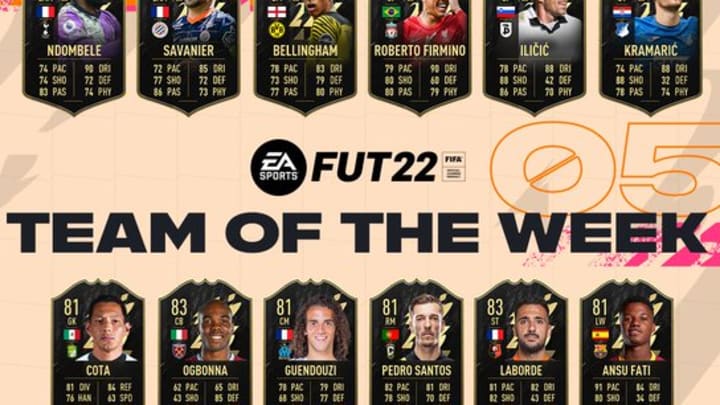 Photo by EA Sports
FIFA 22 TOTW Upgrade SBC packs were released for the first time on Oct. 25 giving players a chance to pack some of the best items released in the game so far.
EA Sports releases these Team of the Week Upgrade SBC packs periodically throughout a FIFA Ultimate Team cycle. These Squad Building Challenge packs usually require a team rated 83 overall and it is repeatable. Sometimes these packs can be held and saved for future TOTW squads, other times they are locked to specific squads.
FIFA 22 TOTW Upgrade: How to Complete the SBC
Here's how to complete the first FIFA 22 TOTW Upgrade SBC:
One Segment
Squad Rating: 83
Team Chemistry: 70
# of Players in the Squad: 11
This TOTW Upgrade pack contains an untradeable item from TOTW 1 through 5, though the pack does state in the Store screen that you can get players from the current TOTW as well. Here are some of the best players you can pack from this SBC:
Joshua Kimmich - 90 / CDM - Bayern Munich
Mohamed Salah - 90 / RW - Liverpool
Heung-min Son - 90 / LM - Tottenham Hotspur
Sadio Mane - 90 / CAM - Liverpool
Jesus Navas - 86 / RB - Sevilla
Nicolo Barella - 86 / CM - Inter Milan
Gabriel Jesus - 86 / RW - Manchester City
Phil Foden - 86 / LW - Manchester City
Theo Hernandez - 86 / LWB - AC Milan
Also expect some TOTW items to decrease in price on the transfer market because players will be adding untradeable versions to their clubs and might look to move on their tradeable versions. This SBC is only available for 48 hours.