FIFA 22 TOTY 12th Man Nominees Apparently Leaked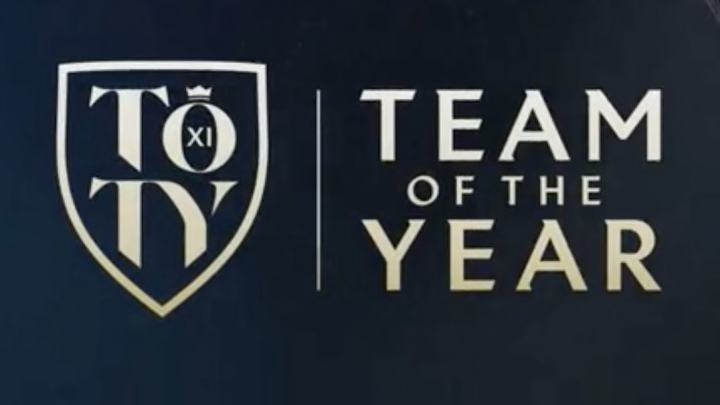 TOTY begins this Friday, Jan. 21 / Photo Courtesy of EA Sports
The FIFA 22 TOTY has officially been revealed by EA Sports and will arrive in Ultimate Team this Friday, Jan. 21. There are a few players who missed out on the vote and could feature in the 12th man vote when it arrives next week.
According to leaker FIFA_Romania on Twitter, there will be three players to choose from in the 12th man vote for TOTY, and they have already been leaked.
FIFA 22 TOTY 12th Man Nominees Apparently Leaked
The following three players have been leaked for the upcoming 12th man vote for FIFA 22 TOTY:
Karim Benzema (CF, Real Madrid)
Real Madrid v Valencia - La Liga Santander / Soccrates Images/GettyImages
Karim Benzema has remained one of the most underrated players not just for Real Madrid, but in the entire world over the past few seasons. In 2021, he proved why he deserves more recognition as one of the best attackers in the world, even at the ripe age of 34 years old. With plenty of POTM award wins, a dominant run in La Liga in 2021, and making his return to the French National Team, Benzema was very much deserving of TOTY considerations, and if the leaks are true, now he'll get another chance with the 12th man vote.
Mohamad Salah (RW, Liverpool)
Chelsea v Liverpool - Premier League / James Williamson - AMA/GettyImages
Salah has arguably been the best player in the world since the start of the 2021/22 season, leading Liverpool's attack in the Premier League and Champions League. Some were shocked to see Kylian Mbappe make it into TOTY over Salah, but the Egyptian will get another chance at TOTY glory if he is indeed featured in the 12th man voting.
Cristiano Ronaldo (ST, Manchester United)
Brentford v Manchester United - Premier League / Marc Atkins/GettyImages
This is the player that has featured in every TOTY since FIFA 13 and is widely regarded as one of the greatest footballers of all time. Ronaldo didn't make it into this year's TOTY, but after his season with Juventus and Manchester United, as well as his performance for Portugal in the Euros, it is hard to see why he didn't deserve a spot. CR7 is always one of the most valuable TOTYs in FIFA, and it would be very surprising to think of him not having a spot in the best 11 for the first time in nearly a decade.