FIFA
FIFA 22 Ultimate Team Division Rivals Changes Detailed
By Max Mallow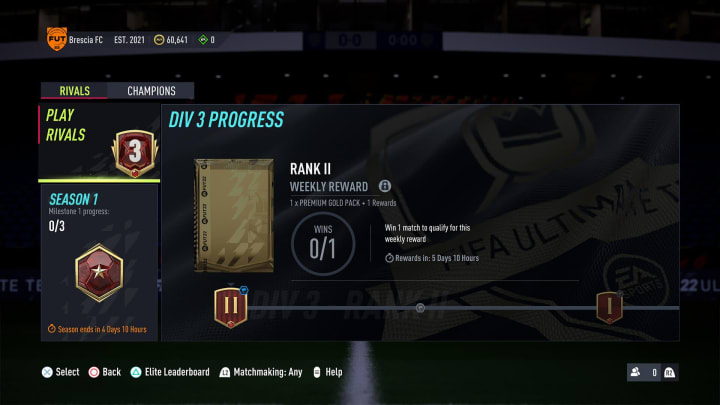 Photo by EA Sports
EA Sports revealed changes to Division Rivals coming in FIFA 22 Ultimate Team which should excite fans.
Division Rivals is one of the pillars of multiplayer in FIFA Ultimate Team. It is a competitive playlist in which players earn points and rewards every week as they try to progress up to Division 1. Players criticized FIFA 21's iteration of the game mode after EA Sports added a match cap for what counted toward your rank. Fans found it a bit redundant to grind considering FUT Champions games ended up eating into the Division Rivals tally as well.
It seems EA Sports has heard those cries for changes and announced a new Division Rivals system for FIFA 22.
FIFA 22 Ultimate Team Division Rivals Changes Detailed
First off, Division Rivals is now a ladder system. Gone is the grinding for skill rank from Division 10 to 1. According to EA Sports, this is how the new system is built:
Ranks that reflect your progress within a Division and unlock better Weekly Rewards
Stages, which are the individual steps between Ranks
Checkpoints that prevent losing progress and ensure that players remain at the appropriate skill level
Players now progress through the ladder with wins and losses. Winning will move players up the ladder, and losses backwards unless they are on a checkpoint. This is a nice addition considering in the past players would de-rank themselves to play easier competition for challenges in previous titles.
Winning consecutive matches will earn players a win streak increasing the speed in which they advance. All players start in Division 10 as well with placement matches being removed.
There is also a new Elite Division past Division 1 where the best players can compete against each other. As always, rewards will be earned weekly. The higher you climb, the better your rewards. There are also seasonal rewards tied to the FUT Season.
Read more about the FIFA 22 Ultimate Team changes here.