FIFA 22 Ultimate TOTS Release Date Unveiled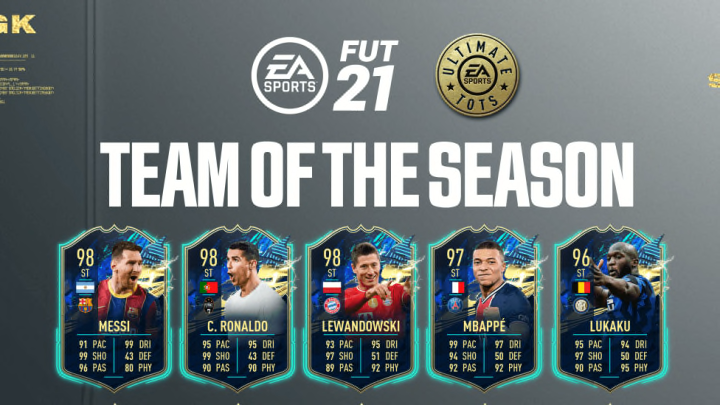 Photo courtesy of EA Sports
The most anticipated part of one of the most anticipated promos: FIFA 22's Ultimate Team of the Season finally has a release date.
Ultimate TOTS is a celebration and conclusion of the TOTS event as a whole. The event typically is a new team, made up of the best of all the different league TOTS cards, released back into packs for a limited time. This gives players the chance to pack the TOTS cards that they'll be using in FUT Champs through the end of FIFA 22's lifespan. Along with Team of the Year, this team will be one of the two best released as a FIFA promotion.
FIFA 22 Ultimate TOTS Release Date
The release date for Ultimate TOTS in FIFA 22 is set to be June 10, after the conclusion of the Serie A TOTS promo.
Last year's Ultimate TOTS re-released 98 rated Messi, Ronaldo, and Lewandowski striker cards, along with 97 rated Mbappe. It also featured a re-release of four incredible Premier League cards all rated 96 in Kevin De Bruyne, Mohamed Salah, Harry Kane, and Bruno Fernandes. This year's Ultimate TOTS will certainly be memorable, with Mbappe and Karim Benzema's incredible form likely securing their spots in the Ultimate TOTS lineup, with a trio of outstanding fullback defenders likely vying for Ultimate TOTS spots as well in Trent Alexander-Arnold, João Cancelo, and Achraf Hakimi.