FIFA
FIFA 22 Wayne Rooney Icon Moments SBC Leaked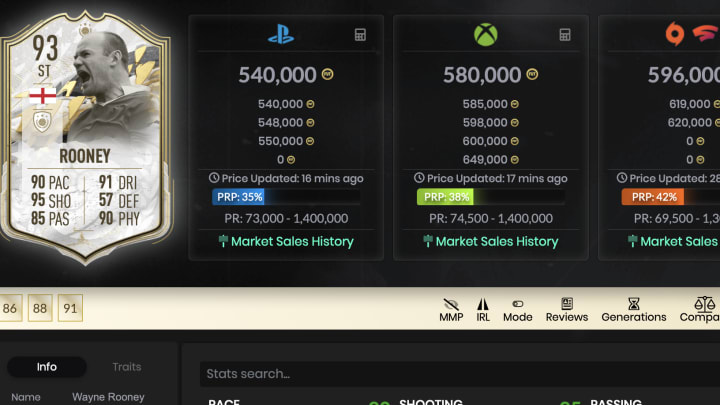 A Wayne Rooney Icon Moments SBC has been leaked for FIFA 22 / Photo Courtesy of FUTBIN
Throughout FIFA 22's Team of the Season promo, several SBCs will be released, including Flashback items, End of an Era SBCs, and more Prime Icon Moments SBCs. One of the upcoming SBCs scheduled to arrive in FIFA 22 is for a Prime Icon Moments Wayne Rooney.
According to FutSheriff on Twitter, the Rooney PIM SBC was added to come via SBC soon. Rooney's PIM card is currently sitting just under 600,000 coins on the FUT transfer market.
FIFA 22 Wayne Rooney Icon Moments SBC Leaked
The leaked SBC doesn't have a confirmed release date yet, according to Sheriff, however, it will likely come within the next few days, before the arrival of the Bundesliga TOTS. With Rooney being a Premier League Legend, it makes sense for his SBC to be released during the Premier League TOTS.
With upgrade packs soon to come and plenty of packs being opened throughout TOTS, Rooney shouldn't be too expensive to complete, and can be completed with upgrade packs and fodder from packs.
Wayne Rooney's Prime Icon Moments card is a great card, however, it will be interesting to see how many players complete the SBC, considering that the TOTS Promo is releasing an abundance of high rated, great strikers that will be cheaper than an Icon Moments card.