FIFA
FIFA 23 FIFA Points Changes: Full List of Options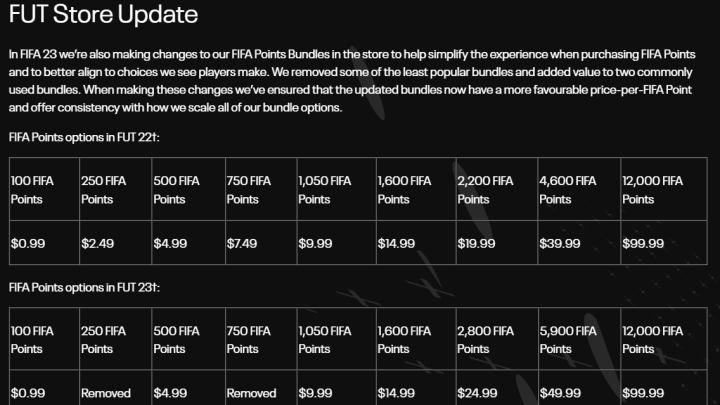 EA Sports
EA Sports announced changes to FIFA Points options for FIFA 23 Ultimate Team.
FIFA Points are the microtransaction currency in FIFA Ultimate Team. Points are used to purchase packs and enter FUT Drafts. "In FIFA 23 we're also making changes to our FIFA Points Bundles in the store to help simplify the experience when purchasing FIFA Points to better align to choices we see players make," EA Sports said in the latest Pitch Notes.
"We've removed some of the least popular bundles and added value to two commonly used bundles."
FIFA 23 FIFA Points Changes: Full List of Options
Here's a look at the new FIFA Points bundles in FIFA 23:
100 FIFA Points - $0.99
500 FIFA Points - $4.99
1,050 FIFA Points - $9.99
1,600 FIFA Points - $14.99
2,800 FIFA Points - $24.99 (NEW)
5,900 FIFA Points - $49.99 (NEW)
12,000 FIFA Points - $99.99
The following options from FIFA 22 have been removed:
250 FIFA Points
750 FIFA Points
EA Sports closed the portion of the Pitch Notes by saying, "When making these changes we've ensured that the updated bundles now have a more favorable price-per-FIFA Point and offer consistency with how we scale all of our bundle options."
FIFA 23 launches Sept. 30.