FIFA 23 FUT Heroes: Full List of Players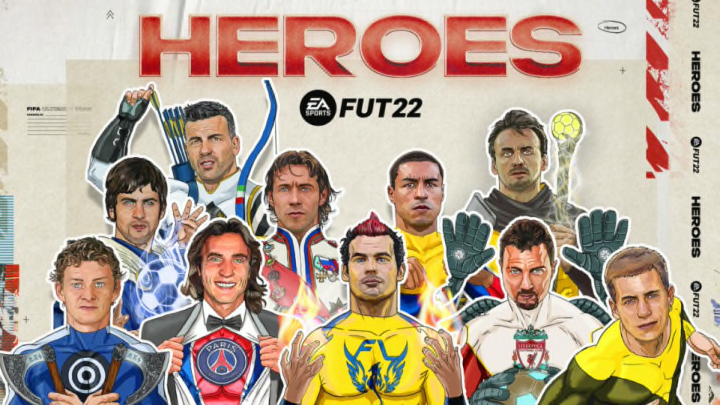 FUT Heroes / Photo Courtesy of EA Sports
FIFA 22 was the first installment of the franchise to include FUT Heroes in Ultimate Team. The FUT Heroes work similarly to Icons, providing strong links to any player from the league the FUT Hero represents.
The FUT Heroes should appear again in FIFA 23, and new Heroes have already been leaked to come in FUT 23 as well. Here's the full list of FUT Heroes set to be in next year's game.
FIFA 23 FUT Heroes: Full List of Players
We can assume that the same list of Heroes from FIFA 22 will return. That list is as follows:
Tim Cahill - (Australia, Premier League, 85)
Clint Dempsey (USA, MLS, 85)
Lars Ricken (Germany, Bundesliga, 85)
Aleksandr Mostovoi (Russia, LaLiga Santander, 86)
Freddie Ljungberg (Sweden, Premier League, 86)
Jerzy Dudek (Poland, Premier League, 86)
Ole-Gunner Solskjaer (Norway, Premier League, 86)
Sami Al-Jaber (Saudi Arabia, Saudi Pro League, 86)
Robbie Keane (Northern Ireland, Premier League, 86)
Joe Cole (England, Premier League, 87)
Ivan Cordoba (Colombia, Serie A, 87)
Jorge Campos (Colombia, Liga BBVA, 87)
Diego Milito (Argentina, Serie A, 88)
Antonio Di Natale (Italy, Serie A, 88)
Mario Gomez (Germany, Bundesliga 1, 88)
Fernando Morientes (Spain, Liga Santander 89
Abedi Pele (Ghana, Ligue 1, 89)
Jürgen Kohler (Germany, Bundesliga, 89)
David Ginola (France, Ligue 1, 89)
Here's the list of the latest leaked Heroes:
Leaked Heroes
Diego Simeone
Yaya Touré
Peter Crouch
Paolo Futre
Claudio Marchisio
Lucio
Rafa Marquez
Dirk Kuyt
Joan Capdevila
Ji-Sung Park
As any leaked Heroes or confirmed announcements are made from EA Sports, we'll update this article. Check back as more information regarding FIFA 23 is announced.