FIFA
FIFA 23 Team of the Group Stage Release Date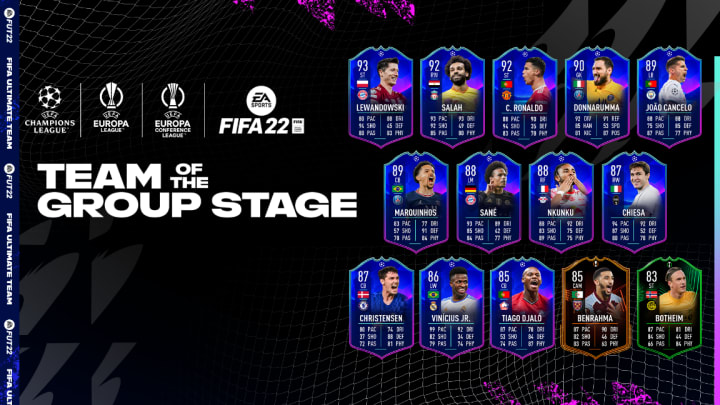 FIFA 22's Team of the Group Stage promotional team. / EA Sports
FIFA 23 Team of the Group Stage release date remains unknown as fans prepare for the next UEFA themed promotion.
Team of the Group Stage is an annual FIFA Ultimate Team promotion celebrating the best performing players from UEFA competition group stages. Those competitions include the Champions League, Europa League and Europa Conference League. It is one of the staples of the FUT calendar, but its release date remains a mystery.
Here's what we know about FIFA 23's Team of the Group Stage release date.
FIFA 23 Team of the Group Stage Release Date
Most would expect Team of the Group Stage to kick off Friday, Nov. 4. But, there has been no confirmation from EA Sports as of writing.
Reputable leaker FutSheriff posted Nov. 1 on Twitter that he has no information on if TOTGS will arrive Nov. 4. As well, he does not believe there will be a second Out of Position promotional team. Rulebreakers was the only promotion so far in FUT 23 to feature two promotional teams. Out of Position's promotional media did not indicate that it was Team 1 of two set to arrive.
As well, World Cup content is expected to arrive next Friday, Nov. 11. That would mean if there was to be a TOTGS promotion, Nov. 4 would be the perfect segue into the World Cup. UEFA competition group stages wrap up this week as well with Europa League and Europa Conference League matches ending Nov. 3.
EA Sports traditionally teases new promotions each Wednesday via a FUT loading screen, so stay tuned for more information. If a loading screen is not added on Nov. 2, it's possible EA Sports skips the promotion this year. Or, perhaps pairs it with the start of the World Cup content.
When a release date is revealed, we will update our story with more information.