FIFA
FIFA 23 Team of the Week 7: Best Players, FUT Champions Player Picks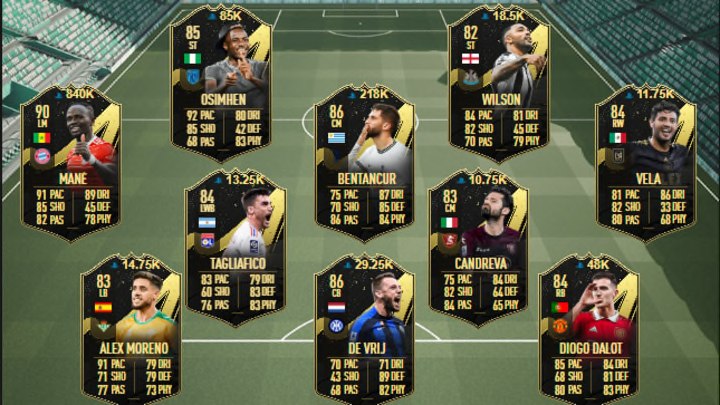 FIFA 23 Team of the Week 7 is now available in packs for a limited time. / FUTBIN
FIFA 23 Team of the Week 7 went live Wednesday, Nov. 2 at 2 p.m. ET.
Team of the Week (TOTW) 7 isn't as spectacular as last week's release, but there are some player items that stand out as sought after for upcoming FUT Champions rewards. Bayern Munich attacker Sadio Mane leads the way as both the highest rated and best player in the squad. He'll be the chase card for the next week outside of any other promotional items available or yet to be added to packs.
That being said, here's a breakdown of the best players in FIFA 23 TOTW 7, including the items you should go after, prioritize in FUT Champions rewards and more.
FIFA 23 Team of the Week 7: Best Players
Sadio Mane is easily the best player available in the group. As of writing, he is just under 800,000 coins as a tradeable item on the transfer market. From there, there's a bit of a decline. But, it's not as steep as some might expect it to be.
Stefan De Vrij is a fantastic defensive option for Serie A squads as a base Lengthy player. Rodrigio Bentancur's 86 item is a great midfield player for Premier League squads. As well, he provides a valuable Uruguayan link to those running any of the many versions of Federico Valverde. Finally, Victor Osimhen is the best attacking option not named Sadio Mane. He has great pace and shooting. Plus, players can change his AcceleRATE style to Lengthy with an Anchor, Architect or Marksman.
FIFA 23 Team of the Week 7: FUT Champions Prioritization
Here's how we're breaking down TOTW 7 for FUT Champions player picks:
S Tier
Sadio Mane - 90 LM - Bayern Munich
A Tier
Victor Osimhen - 85 ST - Napoli
Rodrigo Bentancur - 86 CM - Tottenham Hotspur
Stefan De Vrij - 86 CB - Inter Milan
B Tier
Nicolas Tagliafico - 84 LWB - Olympique Lyon
Carlos Vela - 84 RW - LAFC
Diogo Dalot - 84 RB - Manchester United
Alex Moreno - 83 LB - Real Betis
Gregor Kobel - 85 GK - Borussia Dortmund
Any other player is probably best used as fodder for a FUT Champions Upgrade SBC, especially the 86+ option.