FIFA 23: Top 15 Premier League Players Revealed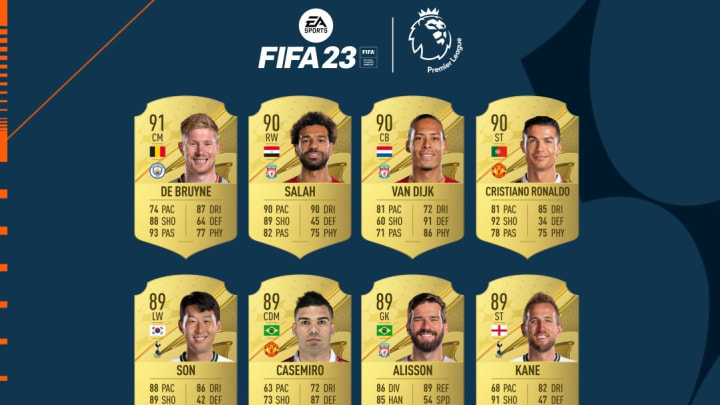 Photo by EA Sports
EA Sports revealed the top 15 Premier League players in FIFA 23 Ultimate Team as anticipation continues to build for the new release.
FIFA 23 is set to release Sept. 30 with Ultimate Team fans getting Web App access on Sept. 21. EA Sports continues to reveal more and more player items and we now know the top 15 players in the Premier League. Fans now know which top players received upgrades, downgrades and where transferred players rank among the league's best.
FIFA 23: Top 15 Premier League Players Revealed
Here are the top 15 Premier League players in FIFA 23 Ultimate Team:
Kevin De Bruyne - 91 CM - Manchester City
Mohamed Salah - 90 RW - Liverpool
Virgil Van Dijk - 90 CB - Liverpool
Cristiano Ronaldo - 90 ST - Manchester United
Heung-min Son - 89 LW - Tottenham Hotspur
Casemiro - 89 CDM - Manchester United
Alisson - 89 GK - Liverpool
Harry Kane - 89 ST - Tottenham Hotspur
Ederson - 89 GK - Manchester City
N'Golo Kante - 89 CDM - Chelsea
Erling Haaland - 88 ST - Manchester City
Joao Cancelo - 88 LB - Manchester City
Ruben Dias - 88 CB - Manchester City
Bernardo Silva - 88 CAM - Manchester City
Fabinho - 87 CDM - Liverpool
Manchester City dominates the list with six players including the top overall with De Bruyne. Liverpool is a close second with four players. Arsenal is the only big six club without a player in the top 15.
Cristiano Ronaldo, Kane and Kante have all received downgrades from FIFA 22. Bernardo Silva, Ruben Dias, Salah, Fabinho and Cancelo all received upgrades. Cancelo's base position has also been changed to left back.