FIFA 23 Winter Wildcards Swaps: Full List of Rewards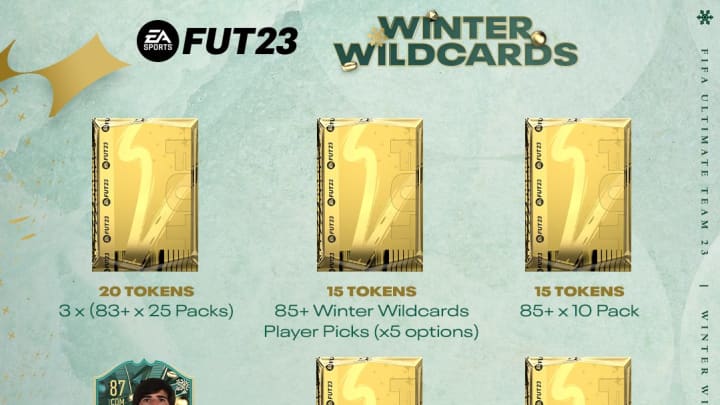 EA Sports
FIFA 23 Winter Wildcards Swaps went live Dec. 19 with fans able to earn a new set of rewards for the holiday season.
Winter Wildcards return as the holiday themed promotion for FIFA Ultimate Team in FIFA 23. As well, there is a new Swaps program where players can earn tokens and redeem them for special rewards. Rewards include special promotional players and different types of packs. This token program will have less available than the World Cup promotion with EA Sports confirming on Twitter that there will be 25 total.
FIFA 23 Winter Wildcards Swaps: Full List of Rewards
Here's the full list of rewards that players can claim during the Winter Wildcards Swaps program:
2 Tokens - Winter Wildcards Kieran Trippier
3 Tokens - 81+ x11 Pack
5 Tokens - 3x 84+ Player Picks (1 of 4)
10 Tokens - 83+ x25 Pack
10 Tokens - Winter Wildcards Sandro Tonali
15 Tokens - 85+ x10 Pack
15 Tokens - 85+ Winter Wildcards Player Pick (1 of 5)
20 Tokens - 3x 83+ x25 Pack
As far as rewards go, it's nice there are multiple options at certain token thresholds. As well, the players aren't too bad especially considering WW Trippier is only two tokens. Most players will probably opt to save packs until the promotional team for WW is out, or they'll go the extra mile and save for Team of the Year.