FIFA 23 Winter Wildcards Swaps: Full List of Tokens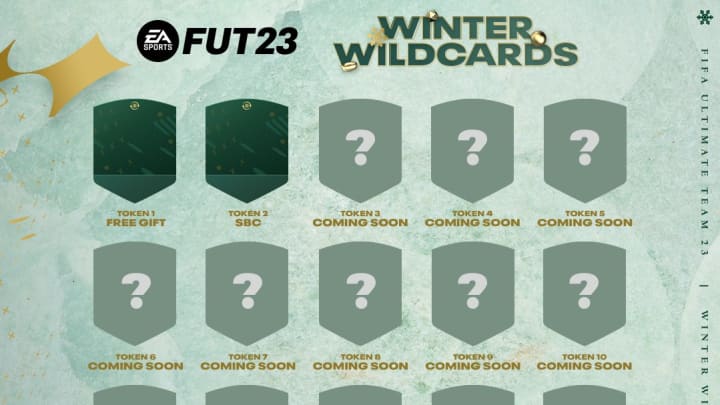 EA Sports
FIFA 23 Winter Wildcards Swaps went live Dec. 19 kicking off the holiday themed promotion.
Winter Wildcards returns in FIFA 23 as the holiday/December themed promotion in Ultimate Team. As well, there's a Swaps program once again following right after the World Cup festivities. EA Sports released the full list of rewards players can claim during the event and a helpful token tracker. In doing the latter, EA Sports revealed how many tokens will be available during the promotion.
Here's everything you need to know.
How Many FIFA 23 Winter Wildcards Swaps Tokens Are There?
There are 25 total FIFA 23 Winter Wildcards Swaps tokens that will be made available through the promotion. The first two were released on Dec. 19 with one as a free gift and a second as an SBC. EA Sports stated there are 25 more tokens yet to come and how they will be released remains a mystery.
FIFA 23 Winter Wildcards Swaps: Full List of Tokens
Here's the full list of released tokens so far:
Token 1: Free Gift on Login
Token 2: SBC - FIFA World Cup TOTT Challenge 1
Token 3: Objective - Win 1 Game in First Owner Fiesta, Found in Milestones
Token 4: Objective - Found in Silver Stars for Antonee Robinson in Milestones
Token 5: Pack - Found in Moments Rewards
Token 6: SBC - FIFA World Cup TOTT Challenge 2
Token 7: SBC - FIFA WorlD Cup Marquee Matchups Segment 1 (Sweden vs Switzerland)
Token 8: Promo Pack - Winter Cheer Pack
Token 9: Objective - Winter Wildcard Treasure Hunt
Token 10: SBC - Winter Wildcards Challenge 1
Token 11: Objective - Winter Winning
Token 12: SBC - Winter Wildcards Challenge 2
Token 13: SBC - Christmas Cheers
Token 14: SBC - Winter Wildcards Challenge 3
Token 15: Objective - First Owner Fiesta
Token 16: Objective - Silver Stars
Token 17: SBC - Marquee Matchups
Token 18: SBC - Winter Wildcards Challenge 4
Token 19: Objective - Winter Wildcards Cup
Token 20: SBC - Winter Wildcards Challenge 5
Token 21: Objective - Winter Draft
Token 22: SBC - New Year's Kick Off
Token 23: SBC - Winter Wildcards Challenge 6
Token 24: Objective - First Owner Fiesta
Token 25: Objective - Silver Stars