FIFA 23 Zinedine Zidane Icon SBC Leaked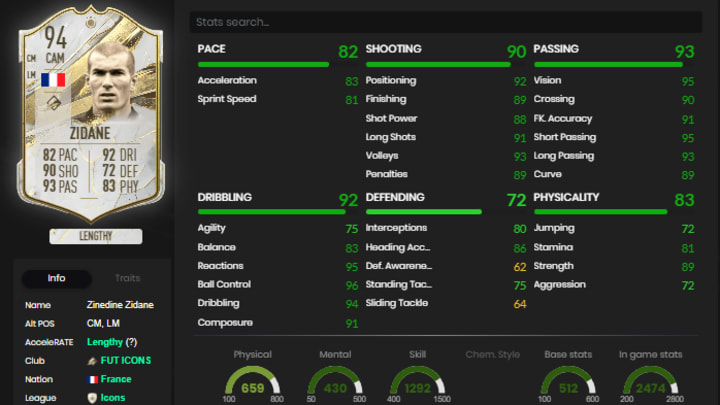 FUTBIN
UPDATE (Jan. 5, 1:26 p.m. ET): The FIFA 23 Mid Icon Zinedine Zidane SBC is now live in Ultimate Team. Here's how to complete the SBC.
---
A FIFA 23 Zinedine Zidane Icon SBC has been leaked by reputable community source Fifa_Romania.
Zinedine Zidane was first added as an Icon in FIFA 20. He was the premier addition of the year and instantly became one of the most sought after players in the game. Zidane excels in multiple areas of the pitch able to play as an attacking midfielder, box-to-box or even a defensive midfielder in certain formations with the right partner next to him.
FIFA 23 Zinedine Zidane Icon SBC Leaked
According to Fifa_Romania, a Zinedine Zidane Icon SBC is set to arrive during the upcoming FUT Centurions promotion. Centurions hasn't been confirmed, as of writing, but a loading screen is expected to arrive Wednesday, Jan. 4 at 1 p.m. ET alongside Team of the Week 10.
Zidane's Icon SBC will be his middle version rated 94 overall. While each version of Zidane has its benefits, mid Zidane has the plus of being able to line up at LM as well as CAM and CM. No other version of Zidane can play LM.
Price and a certain release date remains a mystery, but expect Zidane to cost somewhere around or more than the mid Jairzinho SBC.