'Final' Hearth & Home Spotlight Features Weapon Rebalances in Valheim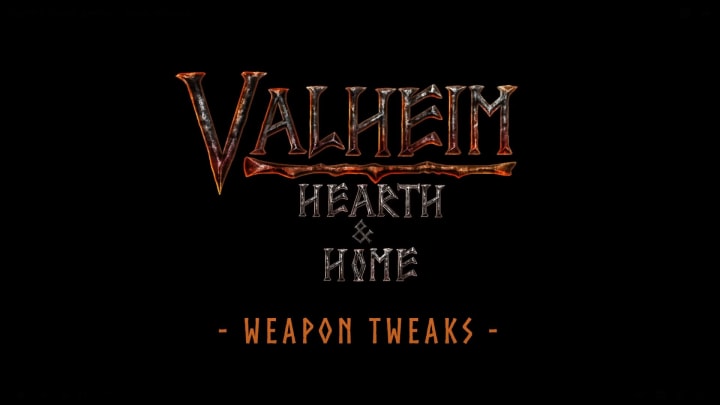 Iron Gate has released its final video in the Hearth & Home spotlight series on its YouTube channel. / Iron Gate Studios, Coffee Stain Publishing
Iron Gate has released its final video in the Hearth & Home spotlight series on its YouTube channel.
This minute-long preview was posted to the studio's YouTube channel on Monday, Sept. 6. This time, the studio has revealed a brief peek into the weapon tweaks players can expect heading into Hearth & Home. It isn't a full list by any means, however, and this likely won't be the last time players will need to adjust their strategy for weapon rebalances in Valheim.
Additionally, toward the end of the spotlight, the narrator revealed a "slightly different video" will be released before the DLC launches.
Weapon Rebalances in Valheim DLC Hearth & Home
Only a selection of the weapons that experienced the biggest changes were included in the spotlight, according to the narrator. Therefore, this isn't a definitive list of tweaks for the upcoming DLC. Players should adapt their strategy accordingly post-launch.
The only two weapons featured in the spotlight were the two-handed axe and the bow.
Two handed battleaxes have a swifter wind-up to hit and feature both increased stagger and cleave capabilities on impact. When paired with its knockback maneuver, the weapon is "a force to be reckoned with." However, they will still remain slow and heavy, so care and precision are advised.
Bows have also received a sizable nerf which makes them slower to draw—despite the player's marksman skills. While physically drawing the bow costs stamina, the developers have decreased the amount needed to keep it drawn. This should give players enough room to aim properly without worrying about draining their energy.
This spotlight is the last in the series as the release of Hearth & Home is right around the corner on Sept. 16.