Top Games
First-Ever 505 Games Digital Showcase Set for May 17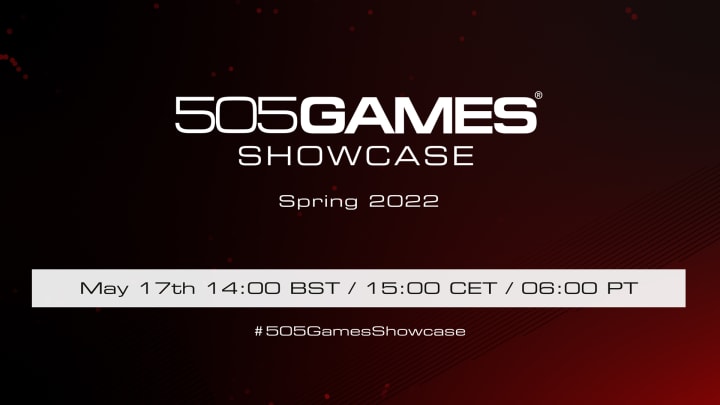 505 Games is planning to unveil information about previously announced titles, as well as a "surprise or two along the way." / Image courtesy of 505 Games
505 Games is set to host its first-ever digital showcase event — the 505 Games Spring 2022 Showcase — on May 17, the Italian video game publisher announced Thursday.
The public screening will begin next Tuesday solely on the official 505 Games YouTube channel at 9 a.m. ET, inviting players to expect updates on previously announced titles, as well as "a surprise or two along the way." After the show, there is said to also be a community Q&A session planned for those looking to chat with the developers and talk about some of the games covered during the showcase.
For the first time in 505 Games' 15-year history, the publisher is set to host a digital showcase event.
"As 505 continues to grow," 505 Games president Neil Ralley said, according to Noisy Pixel, "it is important we keep shouting about the amazing developers we're proud to work with, and the brilliant games they make. With our first-ever showcase, we're thrilled to present just a handful of the new games we have in the pipeline for 2022 and beyond. We'd be honored for people to tune in and see what we have in store for them."
From Dead by Daylight to Sniper Elite III, Payday 2, Assetto Corsa, Brothers: A Tale of Two Sons, Terraria, Abzû, Control and the PC release of Death Stranding: Director's Cut, 505 Games has been credited for publishing a wide variety of titles on platforms for those on Sony, Microsoft, Nintendo, PC (Steam, Epic and GoG) and mobile devices.
The 505 Games Spring 2022 Showcase livestream will be hosted by MTV's Patrice Bouédibéla and last about an hour long (H/T Noisy Pixel).
"The showcase will give gamers the latest insight into a range of upcoming titles that 505 is proud to publish," the 505 Games press release reads (H/T Push Square), "offering never-before-seen content, a brand new reveal from a cult developer, plus in-depth interviews with some of the development teams responsible."
The Italian publisher's upcoming lineup of games includes a Bloodstained: Ritual of the Night sequel, Eiyuden Chronicle: Hundred Heroes, Ghostrunner 2, Serial Cleaners, Stray Blade and more.