Flashback Neymar FIFA 22: How to Complete the SBC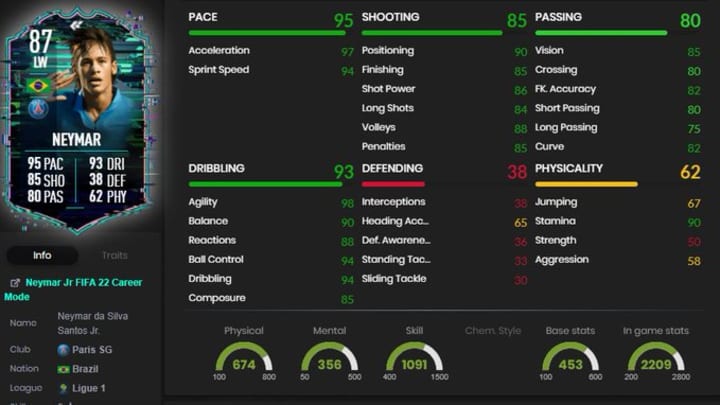 Photo by FUTBIN
Flashback Neymar FIFA 22 SBC went live Feb. 13 after it was leaked on social media by reputable members of the community including Fut Sheriff.
This is one of the best SBCs released all year, and akin to the Cristiano Ronaldo SBC released in FIFA 21. In fact, some might even say that this Flashback version is better than the rare gold version of the Brazilian winger. The in-form and Winter Wildcard items still reign supreme, but this is a great option for those wanting to add a first owner Neymar to their squads.
Flashback Neymar FIFA 22: How to Complete the SBC
Here's how to complete the Flashback Neymar SBC in FIFA 22:
Segment 1
# of Players from Brazil: Min. 1
Team of the Week Players: Min. 1
Squad Rating: 85
Team Chemistry: 65
# of Players in the Squad: 11
REWARD: Prime Electrum Players Pack
Segment 2
# of Players from Ligue 1 Uber Eats: Min. 1
Team of the Week Players: Min. 1
Squad Rating: 86
Team Chemistry: 60
# of Players in the Squad: 11
REWARD: Rare Mixed Players Pack
When comparing the Flashback card to the rare gold item, the Flashback card only has eight less total in-game stats. The Flashback card has better pace, better shooting, relatively equal dribbling, defending and physical stats.
One major benefit is the Flashback's stamina which has been boosted from 81 to 90. The biggest downgrade in this card though is passing, and FIFA 22 fans should know how important passing statistics are in this game.
Also, the release of the SBC has seen Neymar's gold card drop to under 200,000 coins on the transfer market. The Flashback card is currently coming in around 250,000 coins to complete from scratch.
Keep that in mind when wanting to complete this item.
Flashback Neymar expires Feb. 27 at 1 p.m. ET.