Flashpoint Moves to Online Format Amid Coronavirus Pandemic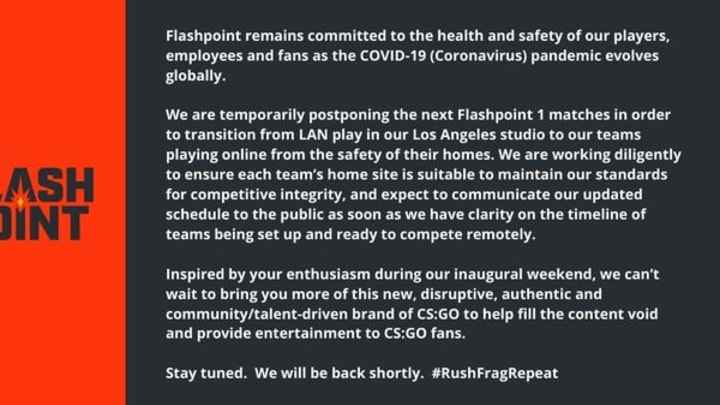 Flashpoint is moving to an online format. / Photo by Flashpoint
Counter-Strike: Global Offensive league Flashpoint announced Tuesday that the remaining matches for its inaugural season will be postponed and moved to an online format amid Coronavirus concerns.
Flashpoint Moves to Online Format Amid Coronavirus Pandemic
"Flashpoint remains committed to the health and safety of our players, employers and fans as the COVID-19 (Coronavirus) pandemic evolves globally," Flashpoint said in an announcement.
"We are temporarily postponing the next Flashpoint 1 matches in order to transition from LAN play in our Los Angeles studio to our teams playing online from the safety of their homes. We are working diligently to ensure each team's home site is suitable to maintain our standers for competitive integrity, and expect to communicate our updated schedule to the public as soon as we have clarity on the timeline of teams being set up and ready to compete remotely."
Flashpoint features notable CS:GO teams such as MIBR, Cloud9, Envy and Dignitas. The league has eight partner teams with an additional four that earned their spots in the league through a LAN qualifier.