Fnatic Reveal 2022 Rainbow Six Siege Japan League Roster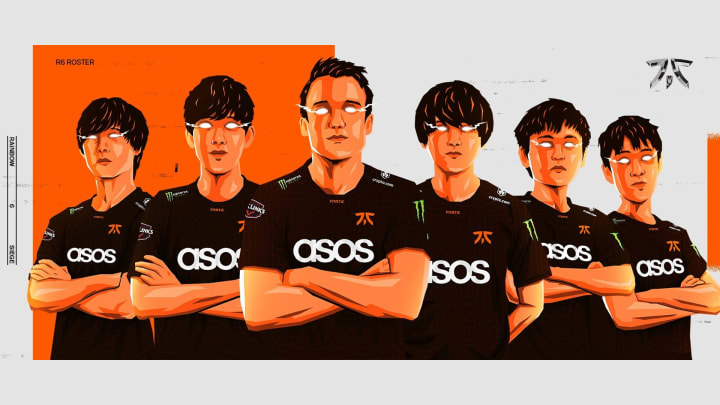 "A new page in Japan, starting here." / Image courtesy of Fnatic
Fnatic have announced their new Rainbow Six Siege roster set to join the Rainbow Six Japan League (RJL) and Rainbow Six Japan Championship (RJC) in 2022.
Making the move over to don the black and orange are four of Japan's GUTS Gaming core roster in Naoki "Yura" Takamoto, Hikaru "Li9ht" Osawa, Kazuki "Lily" Yamane and Tsukasa "Merieux" Asano, who now join Fnatic's 2022 Rainbow Six Siege roster as part of the London-based org's plan to expand into the growing Japanese esports sector and the Asia-Pacific (APAC) market.
Fnatic Reveals 2022 Rainbow Six Siege Japan League Roster
Completing the lineup will be returning Australian team captain Etienne "Mag" Rousseau, who's won several Masters events and taken home the Rainbow Six Pro League: Australia and New Zealand trophy since joining Fnatic in 2018.
With Mag likely set to miss the first stage of competition as he moves to Japan, Fnatic say that "rising star" Ryuya "Chibusu" Hamasita will serve as a sub.
Lastly, head coach Jayden "Dizzle" Saunders will remain in the role he's held since 2018, leading a staff that includes former manager and translator of GUTS, GuNBoY, as well as a new strategic coach and analyst in Théo "Phenomene" Hentgen.
"We're excited to finally begin our journey into Rainbow Six Japanese esports through the distinguished RJL and RJC," Dizzle said in a press release. "We have a new roster of incredible homegrown Japanese talent who we've signed from GUTS Gaming and can't wait to kick-start scrimming with the roster ahead of these two all-important competitions. We're also delighted that Mag will be returning later this year — a player who believes strongly in this project and our vision for Rainbow Six esports in Japan."
The announcement comes after Fnatic raised $17 million in investment last year, which was led by Marubeni Corporation, one of the largest conglomerates in Japan.
This investment round aimed to support Fnatic's expansion into the growing Japanese esports sector and the Asia-Pacific (APAC) market. However, the Covid-19 pandemic prevented the organization from expanding its operations and entering into the RJL or RJC until now. 
"The Asia-Pacific (APAC) market is of huge importance to Fnatic," Fnatic Asia Head of Operations Daniel Cao said in a press release. "We've already witnessed huge amounts of success in the region through strong viewership numbers and various collaborations and campaigns with world well-known brands, tapping into audiences with a high affinity for gaming culture and Fnatic brand, especially through game titles that are loved all over the world.
"We're excited to begin our quest in Japanese Rainbow Six esports and further grow the orange and black footprint within the APAC region in 2022 and beyond."
The new Fnatic Rainbow Six Siege roster is:
Naoki "Yura" Takamoto
Hikaru "Li9ht" Osawa
Kazuki "Lily" Yamane
Tsukasa "Merieux" Asano
Etienne "Mag" Rousseau (Captain)
Ryuya "Chibusu" Hamasita (Sub)
Jayden "Dizzle" Saunders (Head Coach)