Fortnite 14 Days of Christmas 2019: Everything You Need to Know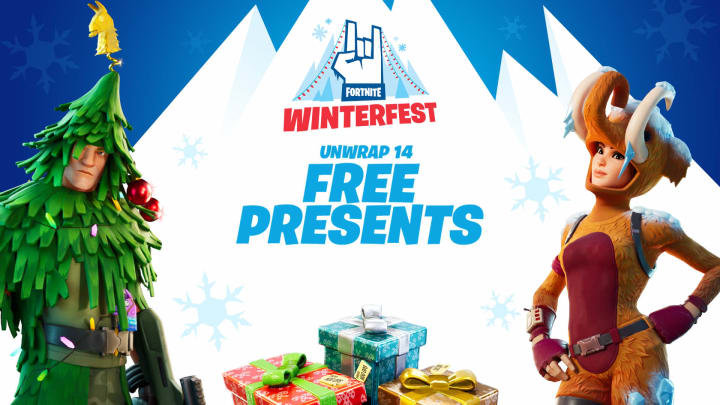 Fortnite 14 Days of Christmas 2019 has arrived! / Photo Courtesy of Epic Games
Fortnite 14 Days of Christmas 2019 has arrived!
With Christmas just around the corner, Epic Games has finally dropped their 2019 holiday season event for Fortnite called Winterfest. Like other events in the past, there are new challenges that players can complete each week for rewards and XP, but in the spirit of the holidays, Epic Games has also decided to continue the 14 Days of Christmas tradition from last year, where players will be eager to see what they will find under the Christmas tree every day.
Here is everything you need to know about the Fortnite 14 Days of Christmas 2019.
Fortnite 14 Days of Christmas 2019: Everything You Need to Know
During the event, there will be a new snowflake tab on the main menu. Clicking on it will take you to the Winterfest Lodge.
At the Winterfest Lodge, you are able to unwrap a present every day for a total of 14 days (which began on Dec. 18), just like an Advent Calendar. Instead of chocolate, inside each present you can find two Outfits, two Gliders, two Pickaxes, two Wraps, one Emote, and other random items. The items inside the presents are all exclusive to this years' Winterfest, so be sure to log in each day to grab some cool loot!
In addition to the daily presents, the Winterfest event also has challenges found in the stockings hanging on the fireplace in the Lodge.
For both the stockings and presents, if you miss a day, you don't have to worry, since you can revisit the present or stocking before Jan. 7 to open what you may have missed.
Epic Games is really in the gift-giving mood with the 14 Days of Christmas aspect of Winterfest this year, so take full advantage of their generosity and be sure to check in and see what you will unwrap every day!