Fortnite
Fortnite Adds New Thor Skins in Gods of Thunder Pack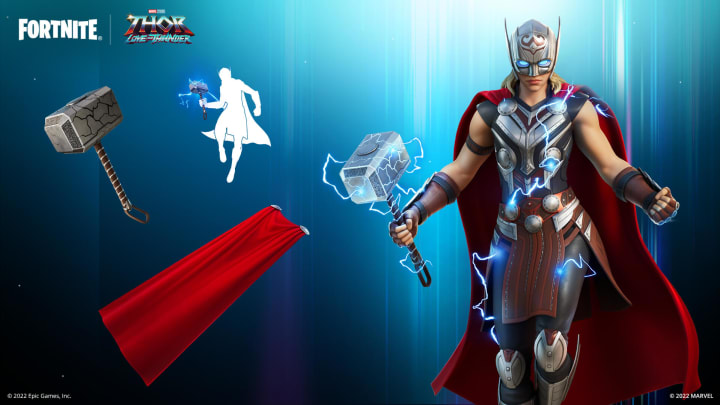 The new Mighty Thor Outfit and cosmetics. / Image courtesy of Epic Games/Marvel
Looking to expand your Marvel collection in Fortnite? Then you might want to get your hands on the new Gods of Thunder pack.
With the release of Marvel's Thor: Love and Thunder, Epic Games have added in a new Marvel collaboration which brings some more Thor-inspired cosmetics to Fortnite. Thanks to the crossover, players can now get their hands on two Thors in Fortnite: Thor Odinson and Mighty Thor. 
The new Gods of Thunder pack also includes additional themed cosmetics, including two Back Blings, two Pickaxes, two Gliders, an Emote and a Loading Screen. Below, we've detailed everything you need to know about this new cosmetics pack, including price and contents.
What's Included in the Gods of Thunder Pack in Fortnite?
Thor Odinson Outfit and cosmetics. / Image courtesy of Epic Games/Marvel
Fortnite's new Gods of Thunder pack included the following items:
Thor Odinson Outfit
Thor's Cape Back Bling
Stormbreaker Pickaxe
Stormbreaker's Flight Glider
Bring The Hammer Down Emote (usable only by

Thor Odinson, Mighty Thor, Thor, and Captain America)
Mighty Thor Outfit
Mighty Thor's Cape Back Bling
Reformed Mjolnir Pickaxe
Mjolnir's Flight Glider
The Thor Odinson Outfit, Mighty Thor Outfit, Stormbreaker Pickaxe, and Reformed Mjolnir Pickaxe all include an alternative, reactive Full Charge Style. These items will electrify upon getting eliminations, and the Pickaxes will electrify upon hitting Weak Points.
How Much Does the Gods of Thunder Pack Cost in Fortnite?
Players can grab the Gods of Thunder pack in Fortnite for 2,500 V-Bucks.