Fortnite
Fortnite Agency Renegades Pack: Items, Price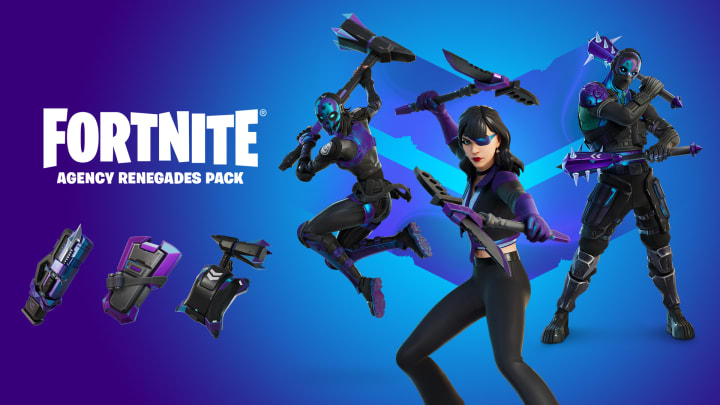 Epic Games
Epic Games have released a new cosmetics bundle for Fortnite — the Agency Renegades Pack.
Despite Fortnite being free-to-play, it features a huge array of purchasable cosmetics for players to customize their avatar with. From original characters and outfits to pop-culture crossovers, hop into a game of Fortnite and you'll encounter a whole zoo of weird and wonderful aesthetics. For those that aren't quite sure where to start, special packs have been put together by Epic Games that offer players a selection of cosmetics to get started.
One of the newest packs to enter the store is the Agency Renegade Pack. These premium packs are a bit different to standard cosmetics in that they aren't bought with the game's premium currency V-Bucks. Instead, players purchase these with real money.
What's Included in the Fortnite Agency Renegade Pack?
Fortnite's Agency Renegade Pack includes the following cosmetics:
Spycatcher Siren Outfit
Final Kiss Back Bling
Axes of Influence Pickaxe
Covert Cobalt Outfit
Black Ops Backplate Back Bling
Shady Zadie Outfit
Hammersmark Back Bling
Blowback Pickaxe
Blackout Mace Pickaxe
Players get a total of three Outfits, three Back Blings, and three Pickaxes.
How Much Does the Agency Renegade Pack Cost in Fortnite?
The Agency Renegade Pack can be purchased for $17.99. Players can purchase the pack directly from the Epic Game Store or through their preferred platform's store.