Fortnite Balenciaga Collaboration Announced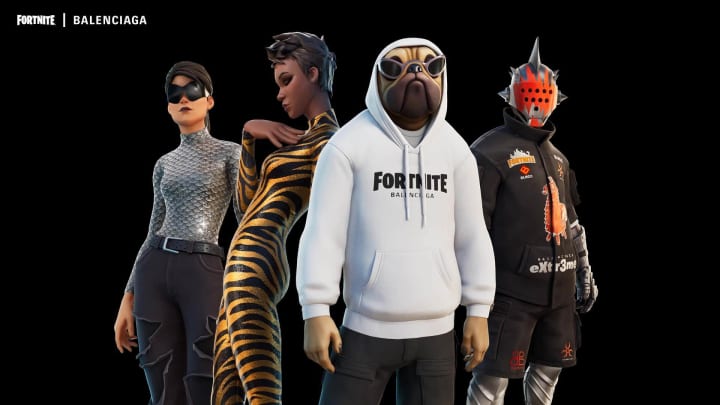 Image provided by Epic Games. /
Fortnite is back at it again with crossovers, and the latest fashion collaboration with the battle royale giant will feature Balenciaga. This stylish event will feature some skins and an assortment of items, so here's what will come with this collaboration.
For those who aren't deeply into the fashion world, Balenciaga is a luxury fashion house in France that's considered to be one of the biggest names in fashion.
Fortnite Balenciaga Collaboration Announced
The collaboration will feature an assortment of skins and back blings and all kinds of cool cosmetics. Here's the complete list:
Skins
Unchained Ramirez Outfit (Comes with the alt Silver Unchained Ramirez Style.)
Shady Doggo Outfit (Comes with the alt Midnight Shady Doggo and Cardinal Shady Doggo Styles.)
Fashion Banshee Outfit (Comes with the alt 24K Fashion Banshee Style.)
Game Knight Outfit (Comes with the alt Stealth Game Knight Style.)
Back Blings
Logo Lugger Back Bling
Skate Pocket Duffle Back Bling
Everyday Sleekpack Back Bling
Camo Carrier Back Bling
Other
Speed Sneaker Pickaxe (Comes with five different-colored alt Styles.)
Parasail Purse Glider
Signature Look Wrap (Comes with the alt Midnight and 24K Styles.)
The Look Emote
Players will also be able to unlock free sprays if they'd rather save their V-Bucks for something else.
In addition to Fortnite adding Balenciaga-themed content into the game, Balenciaga will begin to sell its Fortnite-themed merchandise on its storefront. For those who enjoy both brands, just be ready to shell out the big bucks for the clothing.
The crossover is expected to appear in the next Item Shop on Sept. 20 at 8 p.m. ET.