Fortnite
Fortnite Balenciaga Quests: Full List of Challenges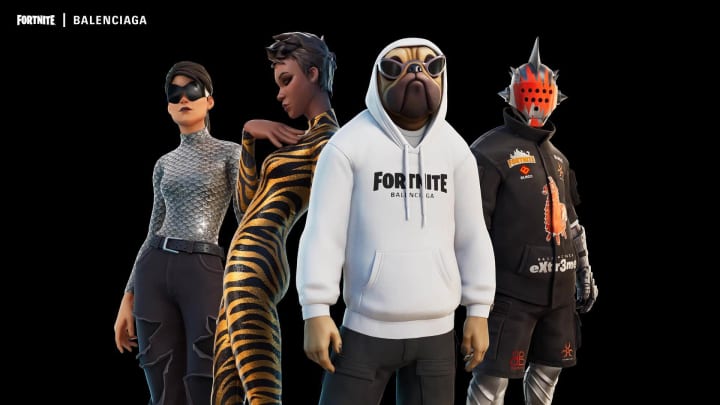 Photo by Epic Games
Epic Games has partnered with fashion house Balenciaga in Chapter 2 Season 8, and now we have some quests to accompany the collaboration. The new quests are called the Punchcard quests, and will give you free rewards incase you're the average person who can't afford Balenciaga.
While the special Balenciaga skins will cost money, completing the accompanying quests can unlock some sprays for anyone who wants them. The quests are available for a limited amount of time, so if you're a broke Balenciaga fan we recommend getting these done now.
Fortnite Balenciaga Quests: Full List of Challenges
Here are the Punchcard quests available in the Balenciaga Fortnite collaboration:
Emote in Front of Doggo Graffiti
Players can complete this quest in any of the three locations: Retail Row, Believer Beach, or Steamy Stacks. Completing it will reward you with the Fashion Doggo spray.
Collect Triple S Sneakers in the Strange Times Featured Hub
To complete this quest you'll need to collect 40 sneakers in total. Afterwards you will be awarded the Knight Looks Spray
Like we said, these are only available for a limited amount of time so get them done fast! For help completing the first quests, we got you covered.