Fortnite Black Widow Cup Leaderboard Revealed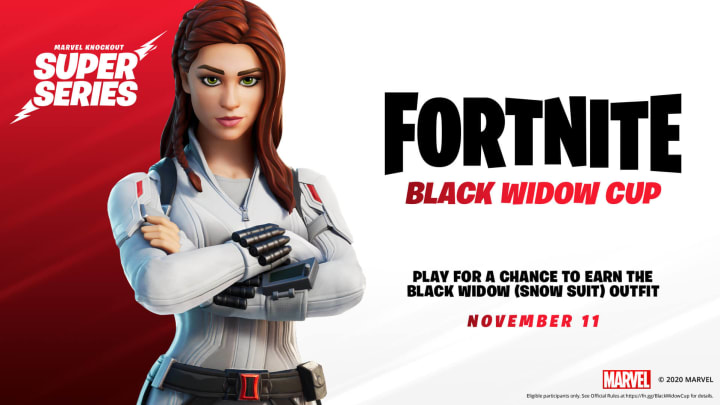 The Black Widow Cup took place on Nov. 11 and duos across the game were competing in the Marvel Knockout LTM for the Black Widow skin / Photo By Epic Games
The Black Widow Cup took place on Nov. 11 and duos across the game were competing in the Marvel Knockout LTM for the chance at receiving the Black Widow outfit before it hits the Item Shop.
Players received the updated Black Widow skin if they finished within a certain placing, which varied across the servers. Here is a full list of the leaderboards according to Fortnite Tracker.
Fortnite Black Widow Cup Leaderboard
NA EAST (Places 1-750th recieve skin)
Loop!, Maxy - 250 points
Landoncreeper15, LoodRoodAndNude - 250 points
Zaroshii, Twitch Sethyano - 250 points

NA WEST ( 1-300th)
Nadeko Snake, Crimson Snek - 250 points
SBA_M4r1n4jart, Jart.Love.Marina - 250 points
Bruh Industries, Fail2Impress - 250 points

EUROPE (1-1200th)
JamesCharlesFan, jamescharlesfan - 250 points
Romix, RG Yeafik - 250 points
Bernd Conrady, BemarcHD - 250 points
OCEANIA (1-150th)
Fresh, Dr. Dano - 250 points
Doctor x2Twins, Dr. x2Twins - 250 points
Ttv Jestyrant, Billy - 250 points

BRAZIL (1-300th)
Abyss Jayjay, Abyss MathzBR - 250 points
uLupe, Sassaki25 - 250 wins
Mikael wv, SniperDe12_ - 230 points
ASIA (1-150th)
Apologies to the winner, the symbols are not compatible - 250 points
Walver., qualalalala - 250 points
GW_Nephrite, GW_Hamuppi - 230 points
MIDDLE EAST (1-150th)
N/A, Washed Noofy - 250 points
7ammadi ., Sky ANGEL. - 250 points
Twitch I2chanzi, CheaterGeorge_ - 250 points
Congratulations to all that competed in the Marvel Knockout LTM tournament and special shoutout for those who placed high enough to earn the Black Widow Skin!