Fortnite
Fortnite Chapter 2 Finale Event "The End" Revealed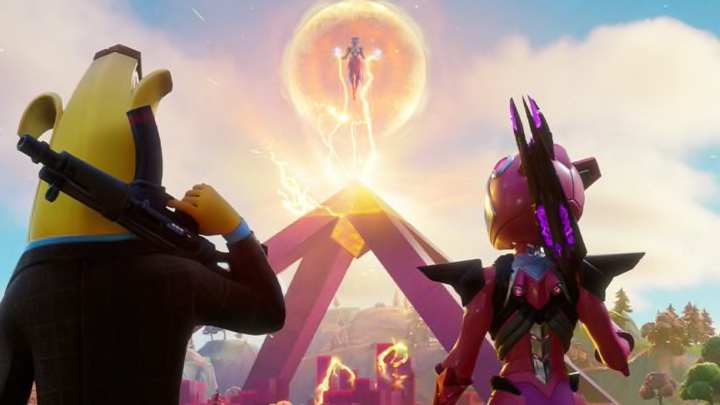 "The End" event marks the finale of Fortnite Chapter 2. With The Convergence complete, The Cube Queen prepares her endgame for the Island. / Photo Courtesy of Epic Games
"The End" event marks the finale of Fortnite Chapter 2. With The Convergence complete, The Cube Queen prepares her endgame for the Island and nothing will ever be the same.
It's almost time to grab your weapons and fight the ultimate destroyer of all reality. Here's everything you need to know about the upcoming Fortnite Chapter 2 finale.
"The End" - Fortnite Chapter 2 Finale Event
"The End" is a one-time-only, in-game event coming to the game on December 4, 2021, at 4 PM EST. "The End" supports large parties of up to 16 players queued together, so you and a larger group of your friends can queue together to watch the event unfold. Make sure you log in early, "The End" playlist will be available in Fortnite 30 minutes prior to the start time for players to jump in. Replays will also not be available, so make sure you are recording if you want to relive the experience.
Because the Season will end a day early, all players who log in before the end of the season will receive a 225,000 XP reward as well. If you want to complete the last of your objectives and quests, be sure to log in soon to work on them as they will not be available come "The End." Any unused Battle Stars will be automatically redeemed for the earliest available rewards
To end Chapter 2, the Fortnite Team announced that they'll be holding a Power Leveling Weekend, starting from Nov. 26, at 7 p.m. ET until Nov. 29, at 7 a.m. ET, to round out your Season 8 progress. Log in to get a pool of Supercharged XP and finish off your Battle Pass.
To immortalize "The End," players who fight back The Cube Queen by attending "The End" will also unlock a special Loading Screen and Wrap. Complete the last of your quests and objectives before it's too late, because "The End" is near.