Fortnite Chapter 3 Season 2: How to Enter an IO Blimp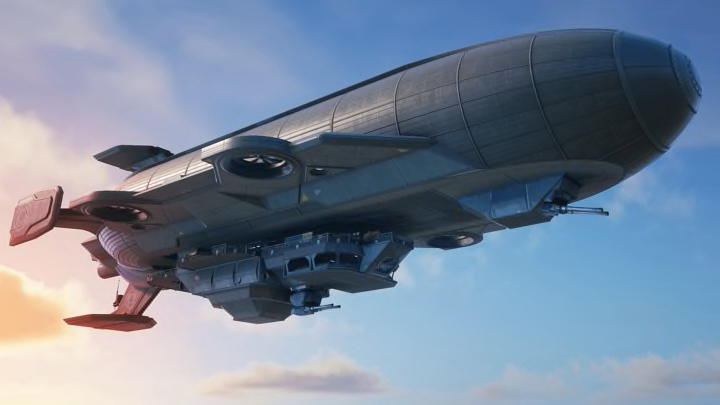 Image courtesy of Epic Games
Fortnite's latest season has added in IO Blimps. Here's how to get inside and claim some loot.
Fortnite's Chapter 3: Season 2 has finally dropped. Players are once again getting the first taste of a variety of new content, weapons, and, of course, a new Battle Pass. This Season sees players joining up with the Resistance against their battle against the IO. POIs will be occupied, new movements will be utilized, all while continuing your struggle for a Victory Royale.
One new feature that's had a looming presence so far are the IO Blimps. These floating fortresses can be found hanging above certain POIs that have been occupied by IO troops. What's more, you can actually get inside them yourself. Here's what you need to know.
How to Get Inside an IO Blimp in Fortnite Chapter 3: Season 2
First, players will need to locate an IO Blimp on the Island. Thankfully, since they're up in the air, you shouldn't have too much trouble locating one. They can mainly be found in the air space above IO occupied POIs.
Once found, look for its Zipline which will be attaching the blimp to the ground. Activating that will allow players to zip up the line and enter the blimp. There'll be some loot inside for you to grab, though that could mean you won't be alone up there. Keep an eye out for any opponents once you enter.
How to Leave an IO Blimp in Fortnite Chapter 3: Season 2
There are a number of ways to leave an IO Blimp once you've claimed all you need from inside. Players can take the Zipline back down to the ground, just as they came in. Alternatively, players can locate the Siege Cannon and use that to shoot themselves back down to earth.
The final option is to use the air draft from one of the blimp's fans then deply a glider to safetly travel back to the ground.
Fortnite Chapter 3: Season 2 is out now on PlayStation 4, PlayStation 5, Xbox One, Xbox Series X|S, Nintendo Switch, Windows PC, macOS, and Android devices.