Fortnite Creative 2.0 Codes: Full List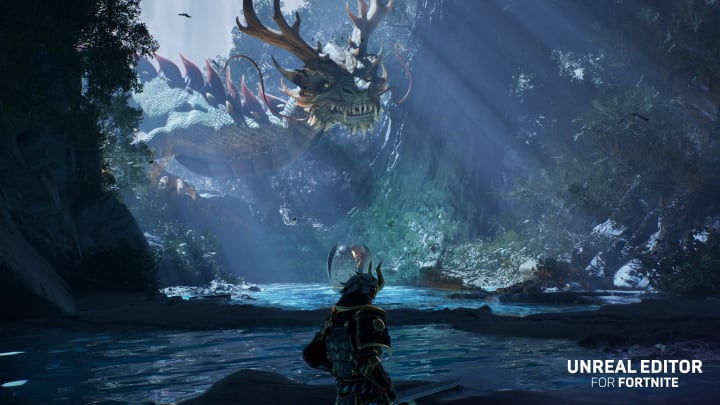 Fortnite Creative 2.0 maps can only be accessed by their codes. / Epic Games
Fortnite Creative 2.0 is here with a list of stunning maps for players to access via their specific codes.
Formally known as Unreal Engine for Fortnite, Creative 2.0 has forever changed Creative mode, even after only one day. What started as a mode for players to practice builds and edits has now turned into a cinematic experience for both creators and fans.
Anyone on a PC can build a Creative island, and the artist can also earn a profit if their creation inspires enough player engagement. The maps are unique in both appearance and content, offering players different mini-games and landscapes to explore.
Here's the full list of codes for the maps currently available to play.
Fortnite Creative 2.0 Codes: Full List
To play Fortnite Creative 2.0, players must type in the code of the map they want to experience into the Island Code section. The full list of map codes is as follows:
Deserted: Domination (8035-1519-2959): Visit the desert wasteland to capture and control zones in a Call of Duty-inspired Domination.
Forest Guardian (0348-4483-3263): Travel to an enchanted forest and meet creatures ranging from wolves to ancient dragons to complete the short quest.
The Space Inside (9836-7381-5978): Players must complete a series of escape rooms, full of mysteries and puzzles, to beat this mini-game.
Reclamation (1135-0371-8937): A sci-fi landscape serves as the backdrop for a five-on-five team deathmatch.
Pirate Adventure (2810-0903-5967): After washing up on an island, players will have to explore the grounds and complete quests.
OG Fortnite Map: (2179-7822-3395): Return to Fortnite Chapter 1 and visit the iconic POIs that made the game famous.
Gemstone Tycoon (6265-7588-5080): For a more laidback mini-game, players can enter Gemstone Tycoon and mine gemstones to earn money.