Fortnite Inferno's Quest Pack Returns to Item Shop: Price, Items Detailed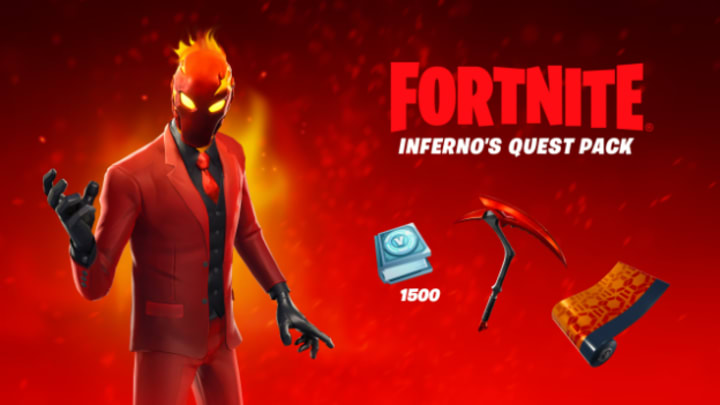 Epic Games
Inferno's Quest Pack is back in the Fortnite Item Shop. Here's what you need to know.
Fortnite's Chapter 3 Season 3 is steadily heading towards its close. Whether you've been playing since the start of the season or just now dropping in, it's important to get the most out of the Battle Royale. With Inferno's Quest Pack returning to the Item Shop, players can unlock access to a number of cosmetics and V-Bucks through some exclusive quests.
These Quest Packs are useful for players looking to get a taste of Fortnite's paid features at a slightly lower price point.
Fortnite Inferno's Quest Pack Price
Unlike the bulk of Fortnite's premium content, Inferno's Quest Pack is bought directly using real money rather than V-Bucks. The pack costs $11.99, but offers players the ability to earn up to 1,500 V-Bucks through in-game quests. To get the same amount of V-Bucks outside of the pack, you'd have to spend close to $16.
The Quest Pack sweetens the deal by offering up additional premium cosmetics.
Fortnite Inferno's Quest Pack Items
Epic Games/Screenshot: Alexandra Hobbs
Inferno's Quest Pack offers the following items, unlocked by completing exclusive quests:
Inferno Outfit
Crimson Scythe Pickaxe
Burnmark Wrap
1,500 V-Bucks