Fortnite Leak Deadpool: How to Get Unmasked Deadpool Fortnite Skin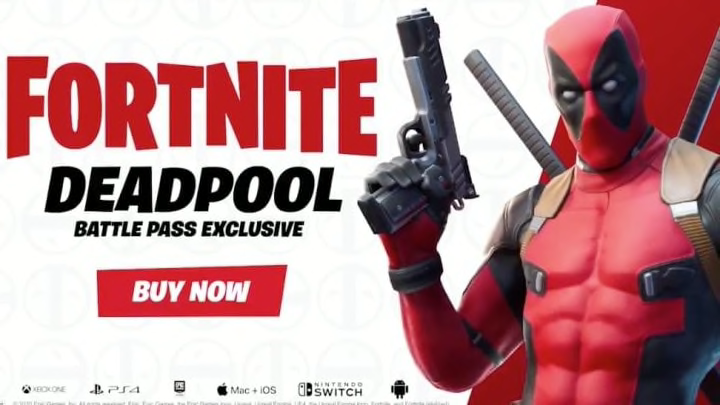 Another Fortnite leak regarding Deadpool has revealed that Deadpool will have multiple skins in Fortnite. / Courtesy of Epic Games
A Fortnite leak about Deadpool has revealed that the goofy Marvel character will have multiple skins in Fortnite, including one without his signature red and black mask.
Here's everything we know so far about the Unmasked Deadpool Fortnite skin and how to unlock it in Fortnite.
Fortnite Leak Deadpool: How to Get Unmasked Deadpool Fortnite Skin
According to a March 30 leak by famous data miner "HYPEX," Unmasked Deadpool was already in the game files although it was unclear how players would unlock the new skin.
The original Deadpool Fortnite skin, showing the character in his classic red and black outfit, was released on April 3 with parts of his cosmetics, like the katana back-bling, unlocked through weekly challenges. So players assumed that Unmasked Deadpool would also be unlocked with its own set of challenges.
A leak from another source, "FireMonkey", seemed to confirm that the Unmasked Deadpool Fortnite skin will be available as a reward for completing one of the two Week 8 Fortnite challenges. Based on the leak, players will either have to find Deadpool's pool floaty or dance at Deadpool's Yacht Party in order to unlock the skin.
Of course, the specific details in those leaks have not yet been officially confirmed by Epic Games. But based on the information we have so far, it is likely that players will be able to earn the Unmasked Deadpool Fortnite skin by completing the Week 8 challenges that will go live on April 9.
Considering the trouble that players had seeing the Week 7 challenges, with the information not appearing to some players at all, those challenges may be extended another week or the rewards may be increased for future challenges.