Fortnite
Fortnite Minty Legends Pack: Full Details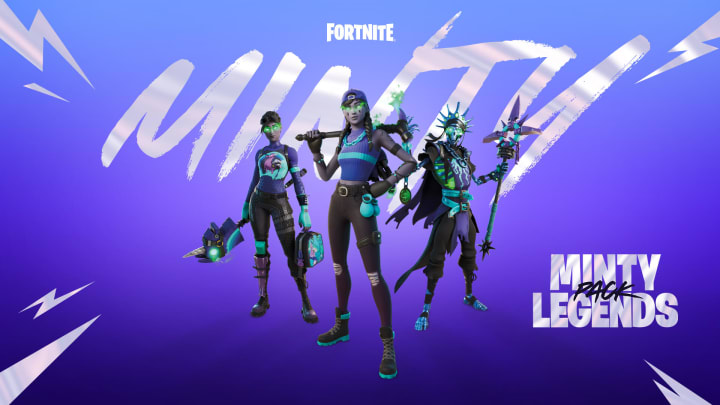 "Just because it's summer doesn't mean you can't start planning your cool new holiday look." / Photo courtesy of Epic Games
Fortnite Minty Legends Pack has just been announced by Epic Games and will include 10 dark magic, frost-themed items.
If it clocks in at the usual bundle price at $24.99, the Minty Legends Pack appears to be a bargain for Fortnite players looking to step up their cosmetic game.
Fortnite Minty Legends Pack: Full Details
Back in November 2019, Epic Games had a promotion for the Merry Mint Fortnite Pickaxe, which went onto to be exclusively obtained by those who purchased it from select regional retailers in the United Kingdom and United States, or bought it from resellers.
Two years later, it appears three fan-favorite characters will be remixed in the same style when the Fortnite Minty Legends Pack drops on Nov. 2, 2021:
Fresh Aura: Get the goods and keep it fresh.
Minty Bomber: The future looks fresh…
Skellemint Oro: Minty mayhem, a refreshing obsession.
Additionally, the Minty Legends Pack includes three chilling Back Blings, three spearing Pickaxes, and to mix it up, one spicy hot Wrap. With an additional 1,000 V-Bucks included, players can find something extra to round out their new look.
The Fortnite Minty Legends Pack releases physically and digitally on the same day—grab it at your favorite gaming retailer or simply purchase the content directly in Fortnite. Get physical copies for PlayStation 4, PS5, Xbox Series X|S and Nintendo Switch, while digital copies will be available wherever Fortnite can be played.
For more on Fortnite cosmetics, feel free to check out our coverage of the Free Guy and Gamora skins.