Fortnite One Piece Creative Map Code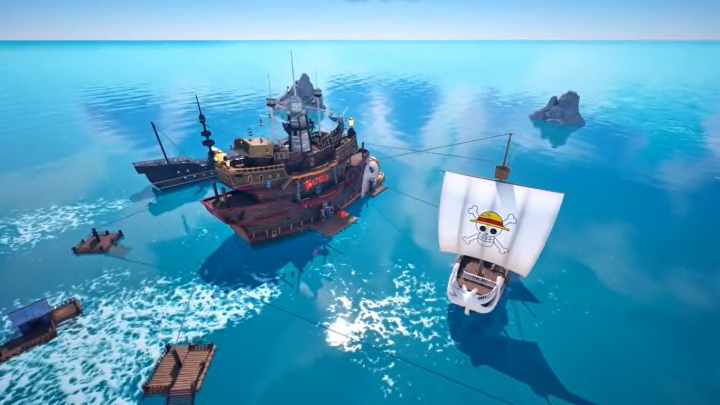 Check out the Fortnite One Piece Creative map code. / Netflix
To celebrate Netflix's live adaption of One Piece, fans can explore a special UEFN map with the Fortnite One Piece Creative map code.
UEFN offers designers the unique opportunity to bring beloved series, characters, and minigames to Fortnite Creative. As the world watches the new One Piece live action on Netflix, they can experience the heart of the story in Fortnite thanks to the One Piece Creative map.
The trailer challenges, "Will you pull off a daring escape as a Straw Hat pirate, or bring order to the sea as a Marine? Get your swords and pistols ready for an epic showdown."
Before you explore the map, though, you must first know its specific map code.
Fortnite One Piece Creative Map Code
The Fortnite One Piece Creative map code is 7374-8187-1871. Head to the Discover tab and type in the map code into the Island Code section. Then, you will be automatically transported to the One Piece map.
The map requires players to complete the following missions:
Board the Battle
Fight for Control
Capture Cannons
Destroy Enemy Ship
Some weapons in the trailer include the Kinetic Blade and the Flint-Knock Pistol.
Can You Earn XP Playing the Fortnite One Piece Creative Map?
Yes, you can earn XP as you play the Fortnite One Piece Creative map. Like all other Creative maps, players will rack up XP the longer they stay in the map.
The Fortnite One Piece Creative map is an easy, fun way to gain XP outside of the traditional Battle Royale. If you are struggling in Ranked to earn enough XP to level up the Fortnite Last Resort Battle Pass, then head to Creative and dive into the pirate adventure of the One Piece map.
Are One Piece Skins Coming to Fortnite?
As of now, it is unknown if official One Piece skins will ever come to Fortnite. One Piece is one of the only anime series not featured in Epic Games' Battle Royale. One Piece would be a huge success if it ever did make a true crossover into Fortnite.
Rumors swirled about the potential for a collaboration with the release of Netflix's live adaptation, but so far, nothing has come to fruition. Unfortunately, the timing was a bit off; the crossover would be out of place with Star Wars set to overtake Fortnite Chapter 4 Season 4 at the end of September.