Fortnite Players Want Refunds Following Cosmetic Age Restrictions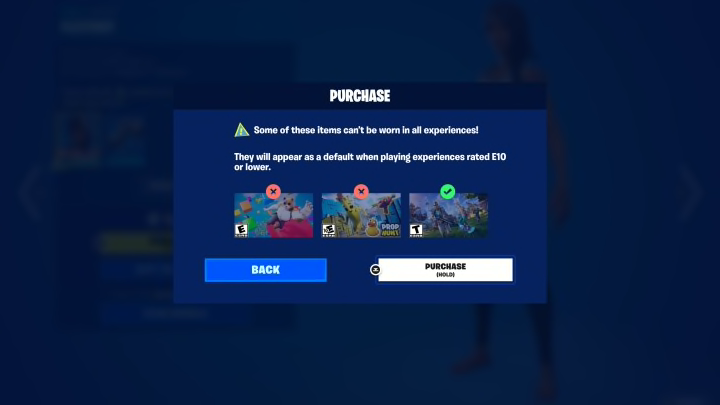 New Fortnite cosmetic age restrictions received massive pushback. / Epic Games
Epic Games recently implemented cosmetic age restrictions, and some Fortnite players are demanding refunds.
In a controversial decision, Epic Games age restricted certain skins and cosmetics in Fortnite for players under a certain age. Skins like Lara Croft, Black Widow, and Claire Redfield can no longer be worn on Creative islands rated below Teen. In an attempt to keep younger Fortnite players from using skins with obvious weaponry attached in Creative 2.0, Epic Games opened themselves up to criticism from the entire fanbase.
In response, Epic Games stated, "About 7% of Fortnite Outfits can only be equipped in islands rated Teen. Over the next year we will enable most of these Outfits to be compatible with all ratings by having them auto-adjust appearance based on the island you want to play."
Despite the slight compromise offered, players still want refunds.
Fortnite Players Want Refunds Following Cosmetic Age Restrictions
Those who can now no longer use some of their age-restricted skins in Fortnite are calling for Epic Games to refund their purchases. The new system covers certain skins with a warning sign in their Locker, indicating that they might not be suitable for certain islands.
One X user posted, "What's the point in buying skins anymore when you are limited to using them. REFUND REFUND REFUND."
Another post reads, "This new Fortnite update is so weird. We need the option to refund any skins that we want because buying skins that we can only use in certain modes? Seriously??? What is the point of cosmetics anymore then?"
Fortunately, it looks like Epic Games is already thinking of a solution to their new policy.
Epic Games Promises to Change Age Restricted Cosmetics in the Future
After such public backlash, Epic Games promised to change their new policy on age restricted cosmetics in the future. Although they did not give specific details, they acknowledged their mistake and gave fans hope moving forward.
"Welp, our plan for cosmetics with the ratings update didn't hit the mark," the official Fortnite X account posted. "We're working on a few new options that we hope to have in place for say...some sort of big in-game event. Stay tuned, we'll keep you posted."
The statement hints at the rumored live event coming to end Fortnite Chapter 4 and introduce Fortnite Chapter 5. Check out the in-game live event countdown here.