Fortnite Pro 'Bugha' Joins the Icon Series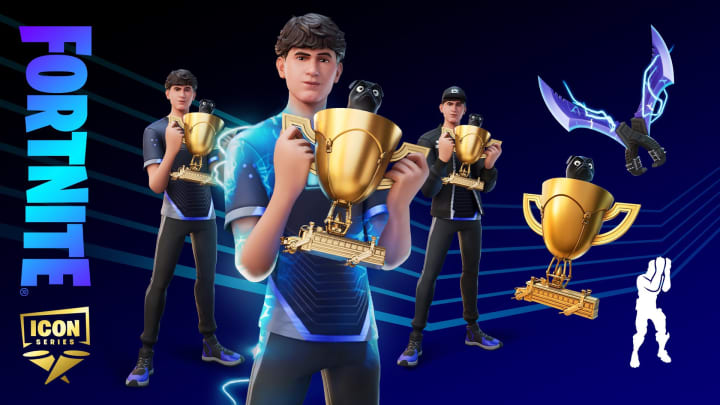 Kyle "Bugha" Giersdorf has received his very own skin and bundle in the Fortnite cosmetic Icon Series. / Epic Games, Kyle "Bugha" Giersdorf
Kyle "Bugha" Giersdorf has received his very own skin and bundle in the Fortnite cosmetic Icon Series.
The 18-year old professional player is best known for his skill in Epic Games' battle royale, Fortnite, where he took first place in the 2019 Fortnite World Cup. He teased the announcement earlier in the week, finally making the full reveal on Monday, July 19. The skin was revealed during a live stream on his Twitch account during which he recapped his career up to this point.
"This is the game I've been the most passionate about for almost four years now, and I'm literally inside the game. I have my own character," he said on stream, "This means the world to me. I can't thank you guys enough."
How to Get the Bugha Skin in Fortnite
The skin bundle is officially dropping on the Item Shop on Tuesday, July 20, at 8 p.m. ET (5 p.m. PT). A price point has yet to be confirmed. The bundle, itself, contains four items:
Bugha Outfit
Zoey Trophy Back Bling
Bugha Blades Harvesting Tool
Bring It Around Emote
The outfit features two additional distinct styles: Bugha Elite Style and the World Champion Bugha Style.
Additionally, in honor of the newest Icon Series member, a new Limited Time Arena Mode—Bugha's Late Game—will be available from July 20 through to July 28. Players drop into the arena in trios with the Storm already on their heels. They will have a set amount of materials, weapons, and loadouts from the jump. Those who earn 1500 Hype or more will be eligible to participate in the Bugha's Late Game Tournament and compete for a share of the $100,000 cash prize.
Bugha joins the likes of Loserfruit, Ninja, Lachlan, and Lebron James.
More information can be found on Epic's Fortnite website.