Fortnite
Fortnite Reboot a Friend Rewards Explained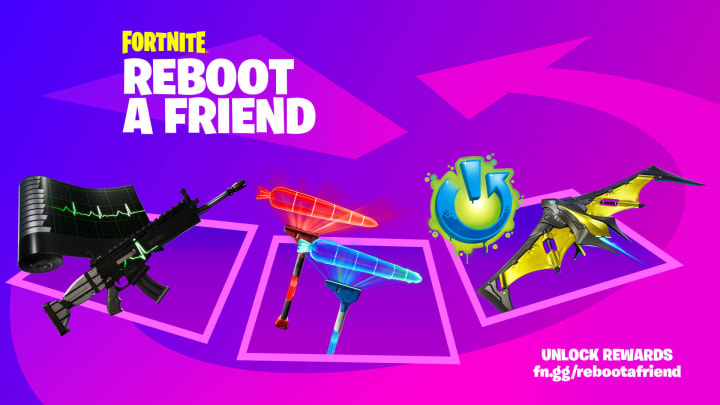 Fortnite Reboot a Friends Rewards / Photo courtesy of Epic Games
The feature Fortnite Reboot a Friend is back once more, and the rewards for this returning experience are available for the first time between April 6 and April 26. If you're looking to get ahold of these rewards, head over to Reboot a Friend and choose up to three friends at a time to play with and earn points.
Fortnite Reboot a Friend Rewards Explained
The rewards this time include a Heartbeat Wrap, Reboot Spray, Toxic Flash Glider, and two variants of the Plasma Carrot Pickaxe (red and blue). Epic Games has mentioned that these items may be available for purchase at a later date, but they are 100 percent free to earn when you play through Reboot a Friend.
From Epic Games: "Both invitees and those inviting friends can unlock rewards by playing games together. Rewards will be granted to your account within seven days of unlocking them through progress. Playing a game with a rebooted player earns you and that player 100 points. Every game after that is worth 10 points.
"To reboot someone in Reboot a Friend, you'll need to have friends on your Friend List who haven't played Fortnite for 30 days or more can be rebooted. If you have no rebootable friends, you can still earn points by selecting any friend on your friend list as a squad mate. You'll be able to earn 10 points per game with these friends, but you won't be able to score the 100-point first-game bonus."
It's a little unclear if playing with three separate rebooted friends at separate times earns you 100-point first game bonuses, but nonetheless earning 100 points is still better than earning 10 points at a time. Time to convince your friends to return!