Fortnite Winterfest 2021 Has Arrived Featuring Spider-Man™: No Way Home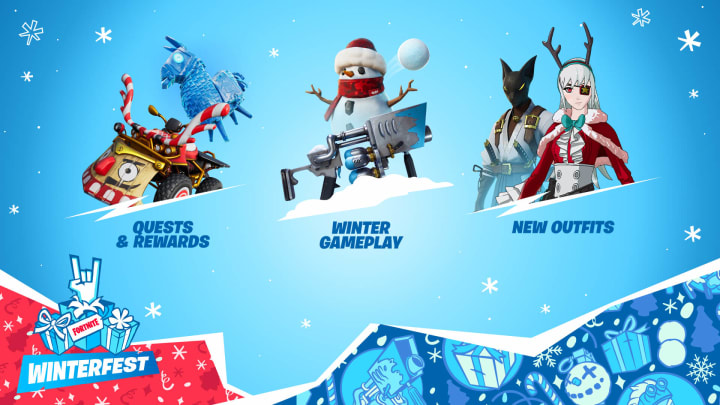 Fortnite's Winterfest celebration is here again with new rewards, quests, and a visit from your friendly neighborhood Spider-Man. / Epic Games
Fortnite's Winterfest celebration is here again with new rewards, quests, and a visit from your friendly neighborhood Spider-Man.
The Winterfest Lodge has re-opened for all inhabitants of Fortnite Island. Sgt. Winter is ready to give out presents to those who take the time and visit him each day of the event. For the entire 14 day run, players will be able to unwrap a brand new gift every single day. These include "two Outfits, two Pickaxes, two Wraps, as well as a Glider, Contrail, Emote, Lobby Track, Loading Screen, Emoticon, Spray, and Banner."
Here's what we know about what Epic Games has in store for Fortnite Winterfest 2021.
When Does Fortnite Winterfest 2021 Start?
Fortnite Winterfest kicks off today, Thursday, Dec. 16, at 9 a.m. ET (6 a.m. PT). It will run until Jan 6, 2022 at 9 a.m. ET (6 a.m. PT). That's two full weeks of winter wonder spread across Fortnite Island.
Everything Included During Fortnite Winterfest 2021
During this time, players can take advantage of several fun features, including a host of new winter-y maps in Creative mode under the "Discover" tab. This includes games, puzzles, "and more." Players who spent over two hours enjoying these creations will earn a special reward.
A collection of weapons and items have been unvaulted for Winterfest this year! According to Epic, these are:
Chiller Grenades
Snowball Launchers
Holiday Presents!
Sneaky Snowman disguise
Fortnite Winterfest 2021 Quests and Rewards
While Epic has yet to reveal all the items being gifted during the 14 day duration of Winterfest this year, it did name the two Outfits:
Krisabelle (Day 6)
Polar Peely ("after his giftbox thaws")
A new gift will become available each day of the event. Players who miss a day don't have to worry, however, as those missed presents can be opened at any time before Winterfest is over.
Gifts aren't the only thing Sgt. Winter is giving players—he's also got a bunch of quests for them to complete. Like presents, a new quest will be revealed every day for the duration of the event. Each one has a XP reward and all quests will be available to complete until the end of Winterfest on Jan. 6.
Additionally, rewards will be given after a certain number of quests have been turned in. These include:
Snowmando Board Glider (Seven Completed Quests)
Ffrosty Back Bling (10 Completed Quests)
The Snowmando Board glider comes with two alternate styles: Ice King Board and Llamadelica Board.
Fortnite Crew members will also get the Golden Look Board Glider for logging in at any time during Winterfest 2021.
Players who spend at least two hours playing the new winter-themed creative maps will get a winter holiday-themed bundle containing:
Ol' Cracky Emoticon
Llamistletoe Spray
Merry Marauder Banner
2022 New Year's Banner
Fortnite Winterfest 2021 Item Shop Rotation and Spider-Man Feature
Spider-Man, fresh from his appearance in the new film No Way Home, will be appearing in the Item Shop during Winterfest. Starting Dec. 16 at 7 p.m. ET (4 p.m. PT), the "Spider-Man (No Way Home)" and "MJ (No Way Home)" Outfits will be available in the Item Shop. Spider-Man has a built in mask-toggle emote in this form.
Other new outfits, "including those inspired by concepts from @lbdart_ and @AltaCalls," will appear in the shop, as well.
Blizzabelle will rotate into the Item Shop on Dec. 16 at 11 a.m. ET (8 a.m. PT) and can be redeemed for free until Jan. 6 at 11 a.m. ET (8 a.m. PT).
More information can be found on the official Fortnite website news page.