Fortnite
Fortnite x Bendy and the Ink Machine Collaboration Teased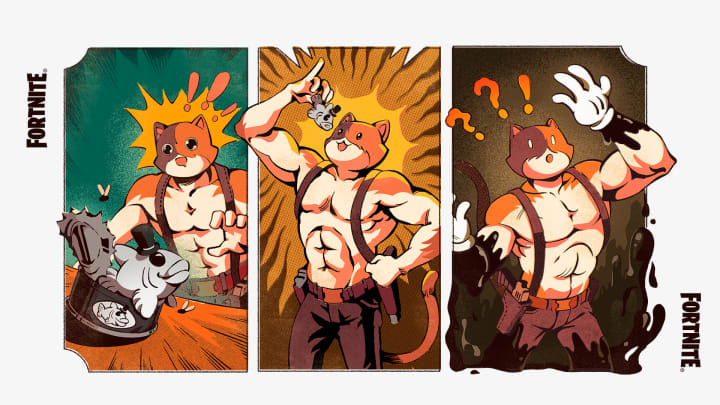 Fortnite may be taking on a more toony feel in the coming weeks due to a possible collaboration with Bendy and the Ink Machine. / Epic Games, Kindly Beast
Fortnite may be taking on a more toony feel in the coming weeks due to a possible collaboration with Bendy and the Ink Machine.
Fans of both games suspect that a crossover could be in the works thanks to a couple of tweets published on the official Fortnite Twitter page. The first of these is a brief, three-panel comic featuring Meowscles getting into a sticky situation while the second is a tune with the vinyl album cover showcasing the cat with a brand new look.
Fortnite x Bendy and the Ink Machine Collaboration Teased
The comic, itself, is pretty obvious. Meowscles finds a rather strange-looking can of fish with a single fish in a top hat sticking out. Of course, he can't resist and eats the fish in a single gulp. This prompts the beginning of a... "Cartoony" transformation, as Meowscles finds himself being consumed by what Bendy fans know to be the exact ink from the Ink Machine.
The second tweet showcases a lobby track featuring Trippie Redd, American raper, singer, and songwriter, titled Drop In Lobby Track. The physical song doesn't have much to do with Bendy, itself, but its cover certainly does. It displays Meowscles, flexing, sporting a new look inspired by the popular cartoon style from the 1930's.
Instead of his typical calico-colored coat, Meowscles is sporting an all-black look with only his chest, face, and tail tip left uncovered. He has a pair of white cloves on his hands and his shoes have been rounded out in a rather familiar way—along with a pair of particularly placed buttons on the front of his pants.
Unfortunately for fans, these are only teasers at the time of writing. Epic Games has yet to come forward and confirm an official crossover between the franchises or collaboration with Kindly Beast—the studio behind the Bendy game.
We suggest interested parties keep an eye on both Kindly Beast and Epic Games for potential future updates.