Fortnite x Dragon Ball Collaboration: Tournament of Power Explained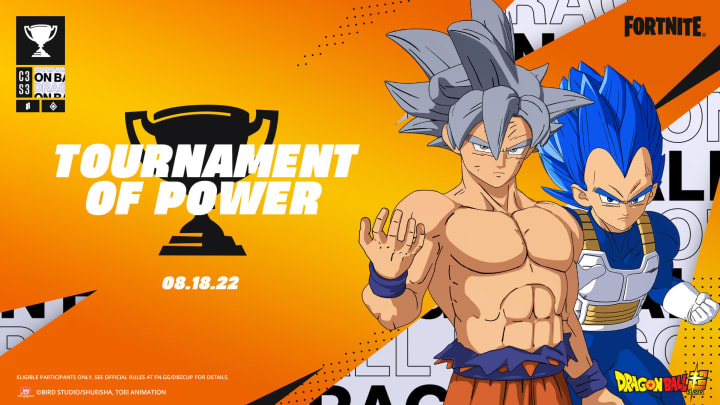 Image courtesy of Epic Games/Toei Animation
Fortnite's Dragon Ball collaboration has added a new spin to the Competitive playlist — the Tournament of Power.
The highly anticipated Dragon Ball crossover is now live in Fortnite, adding in four iconic characters as skins for players to grab. Goku, Vegeta, Bulma, and Beerus are all making their Fortnite debut thanks to this latest collab. While there's plenty of action to get stuck into over on the more casual side of Fortnite, for those after an extra challenge the Tournament of Power could be just what you need.
As part of the Tournament of Power, players have the chance to earn themselves some exclusive Dragon Ball-themed rewards. Here's what you need to know.
Fortnite x Dragon Ball Collaboration: Tournament of Power Start Date
The Tournament of Power takes place in all regions on Aug. 18, 2022. Players need to play up to ten matches, in the Battle Royale Duos tournament, within their region's three-hour window. The exact times for each region can be found in the Compete tab.
The following prizes are up for grabs:
Tournament of Power cosmetic prizes. / Image courtesy of Epic Games/Toei Animation
Top 50% on Main Leaderboard: Angry Vegeta Emoticon
8 Points Earned on Main Leaderboard: Goku's Kanji Banner Icon
3 Points Earned from Eliminations with a Kamehameha: Beerus Eating Spray
The tournament also features an additional Kamehameha Leaderboard, tracking each elimination made with the Kamehameha.