Top Games
Forza Horizon 5 Willys Jeep Exploit Makes Jeeps the Most Popular Car In-game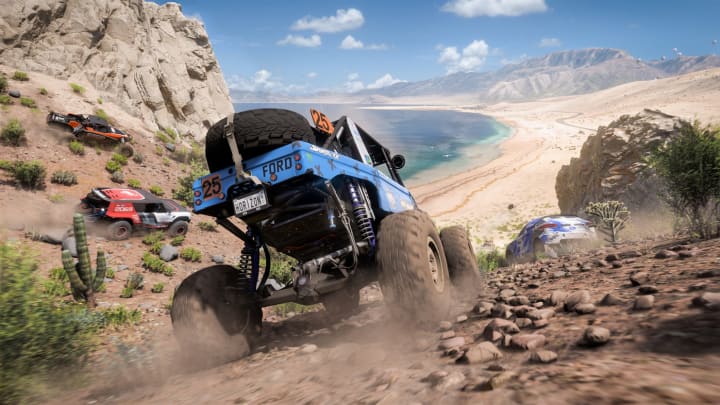 Players have discovered an exploit in Forza Horizon 5 which has resulted in the dramatic rise in Jeep popularity... / Playground Games, Xbox Game Studios
Players have discovered an exploit in Forza Horizon 5 which has resulted in the dramatic rise in Jeep popularity—outside of its real-world "cult-like" status, that is.
Another Forza Horizon 5 exploit has been making headlines this week—particularly due to its out of game consequences and impact on the title's economy. Players have discovered a way to use a particular Jeep to their advantage and, through clever investment of skill points and credits, use it to farm Super Wheelspins and earn nearly triple of what they put into it. While the circumstances surrounding what brought the "Willys Jeep Exploit" to light are unclear, it has already made itself known through gifts and an aggressive influx in the auction house.
Here's what you need to know.
Forza Horizon 5 Willys Jeep Exploit Explained
The exploit is centered on the MB JEEP 1945—also known as the "Willys" Jeep. It is exceptionally cheap with a price tag of 40,000 credits but doesn't have the best stat table when it comes to actually racing in Forza. Unsurprisingly, however, racing with the Willys Jeep isn't the reason behind purchasing one.
Like other vehicles, investing skill points and credits into a Willys Jeep will unlock perks specific to that car. The last perk is a free Super Wheelspin which has the potential to award players with a credit total leagues above what they put into the Jeep and rarer, more valuable cars essentially for free.
At face value, this doesn't sound like an exploit. It sounds like a just reward for divulging hard earned credits into a rusty open-top car. Well, the exploit, itself, isn't so much what the car can do for players as opposed to what players can do with the car after they get their wheelspin.
Several Forza Horizon 5 players have discovered that they can ditch their Willys Jeep, get their initial skill points refunded, and then go on to purchase another Willys Jeep just to repeat the process. This means the total cost of the exploit is a mere 40k credits which, when compared to the prize pool of a Super Wheelspin, is notedly well worth it—according to fans, anyway.
This has led to an influx of fully upgraded Jeeps in the auction house or being gifted to new players. It has had a noticeable impact on the Forza Horizon 5 economy, as well, either replacing most legitimate transactions or making it impossible to reach those transactions due to needing to scroll through pages of Willys Jeeps.
It is currently unclear whether Playground Games or Xbox Game Studios is planning on patching this exploit out.
Forza Horizon 5 is available for PC and Xbox One/Series S|X.