League of Legends
FPX League of Legends Building 2022 Roster Around Lwx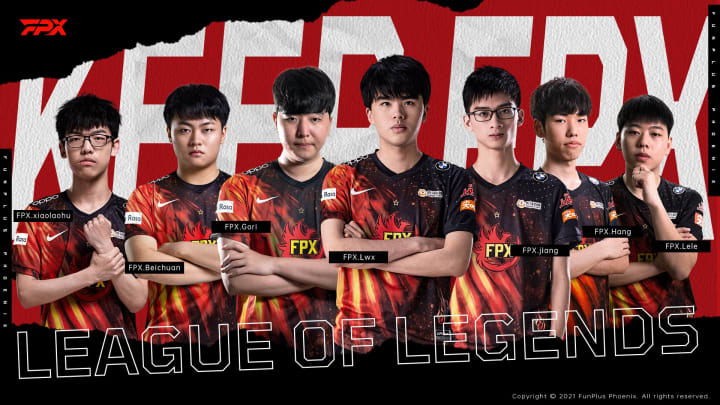 FPX has announced its new League of Legends lineup. / Photo courtesy of FPX
FunPlus Phoenix has announced its finalized roster for the 2022 League of Legends season, and its constructed the squad around the central AD Carry talent Lin "Lwx" Wei-Xiang. Lwx is also the only player from FPX's original roster to remain on the team.
The team's new additions include top laner Ping "xiaolaohu" Xiao-Hu, jungler Yang "Beichuan" Ling, mid laner Kim "Gori" Tae-woo, AD Carry Luo "jiang" Bai-Jiang, support Fu "Hang" Ming-Hang and support Dang "Lele" Bo-Lin.
Xiaolaohu, Beichuan and jiang are all promotions from FPX's academy team, FunPlus Phoenix Blaze. Gori is a South Korean veteran who has played in both the LCK and the LPL. Hang joins from Rare Atom, and Lele from Royal Never Give Up academy team Royal Club.
FPX won the League of Legends World Championship in 2019, and has had a few strong showings since — most notably second place at the Mid-Season Cup 2020 and second place finishes in the last two LPL playoffs — its Worlds 2021 performance left something to be desired. Despite being favored to take the whole tournament, FPX flamed out in the group stage.
The LPL spring split kicks off in January.