Free Halo Infinite Add-On in Microsoft Flight Simulator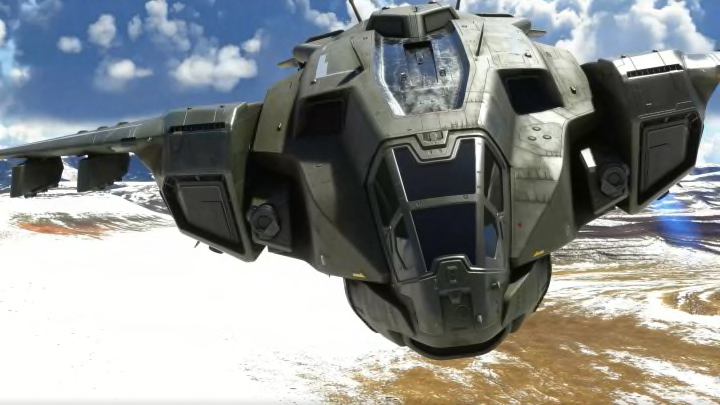 Image courtesy of Microsoft/343 Industries
A new crossover between Halo Infinite and Microsoft Flight Simulator sees players living their sci-fi dreams with the Halo Infinite Pelican add-on.
Revealed as part of yesterday's Xbox & Bethesda Showcase, Halo is collaborating with Mircosoft Flight Simulator to bring fans a free add-on for the simulator. The add-on allows players to fly a detailed version of the Halo Infinite Pelican, without the stress of being shot out of the sky.
The add-on is available for free, as of yesterday, to owners of Microsoft Flight Simulator and subscribers to Xbox Game Pass. It's unclear just what the extent of the add-on is, with little information being revealed by Microsoft. However, being able to fly the ship alone (for free) is a decent novelty.
The hype didn't stop there with Microsoft Flight Simulator, after Asobo Studio revealed the game's 40th Anniversary update — another free package for those who already own Microsoft Flight Simulatoror play it via Xbox Game Pass. The 40th Anniversary Edition will hark back to the game's past, bringing back some classic airports and aircrafts from past games.
Microsoft has revealed some (not all) of the offerings available in the anniversary update:
Historical Aircraft:
Wright Flyer
Ryan NYP ("Spirit of St. Louis")
Douglas DC-3
De Havilland Canada DHC-2-Beaver
Helicopters:
Gliders:
DG Flugzeugbau LG8-18
DG Flugzeugbau DG1001E neo
True-to-Life Airliner:
Microsoft Flight Simulator is available on Xbox Series X|S and PC with Xbox Game Pass, PC Game Pass, Windows, and Steam, and on Xbox One and supported mobile phones, tablets, and lower-spec PCs via Xbox Cloud Gaming.