Free VC Codes NBA 2K22: August 2022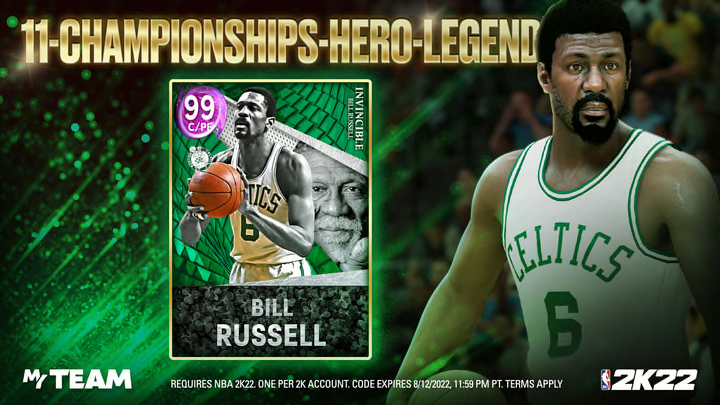 We've compiled a list of the active Locker Codes for NBA 2K22 at the moment for August 2022. / Image courtesy of 2K
We've compiled a list of the active Locker Codes for NBA 2K22 at the moment for August 2022.
Throughout the year, 2K has given out opportunities for players to find and redeem functioning Locker Codes in NBA 2K22. Like in other titles that have limited-time codes, NBA 2K22 will regularly rotate through a list of available offerings that players can use to get free items — including those for both MyTeam and MyCareer players, from Card Packs to Perfect Release Animations.
NBA 2K22 Locker Codes August 2022: Full Active List
Below, players will find a list of NBA 2K22 Locker Codes that are reportedly still active at the time of writing:
11-CHAMPIONSHIPS-HERO-LEGEND: Dark Matter Invincible Bill Russell MyTeam Card (Expires Aug. 12, 2022)
FOREVER-CODE-FROM-ASK-A-DEV: 50 Tokens, Hall of Fame Badge, Diamond Contract, Diamond Shoe or Zero Gravity Deluxe Pack (Expires Jan. 13, 2023)
Unfortunately, at the time of publication, it does not appear that there are any active NBA 2K22 Locker Codes for free VC.
How to Redeem Locker Codes in NBA 2K22
To redeem Locker Codes in NBA 2K22, players can go to the Options tab in the main menu and select "Locker Codes."
There, the keyboard will pop up and players can enter a code.
Be sure to include the hyphens as the code will not work if the hyphens are absent. When inputted correctly and still valid, the code will give players the content.
Another way to redeem them is by doing so through the MyNBA 2K22 app, which is available on iOS and Android.
2K issues new codes every so often in conjunction with special events or sponsored partnerships, so staying updated with their Twitter or Instagram is one of the best ways to get the most from the game.