From Software Modder Uncovers Potential Elden Ring PvP DLC Arena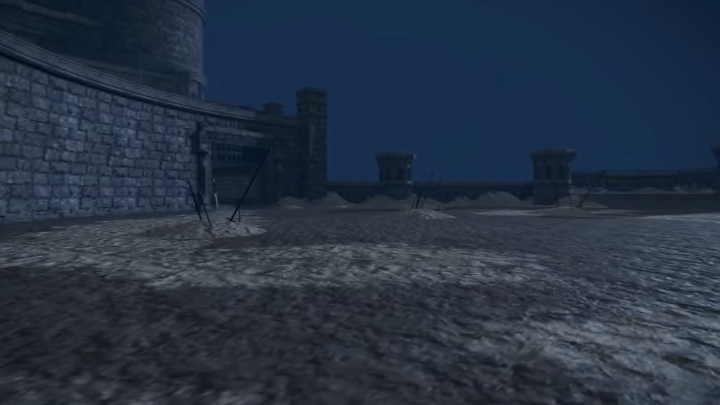 Notable From Software modder, Lance McDonald, has uncovered a previously unavailable Arena location that could point to a future PvP DLC in Elden Ring / From Software, Lance McDonald
Notable From Software modder, Lance McDonald, has uncovered a previously unavailable Arena location that could point to a future PvP DLC in Elden Ring.
During a recent adventure out of bounds from the Elden Ring map, McDonald discovered a "multiplayer arena" area that, according to him, could be the site of an upcoming DLC that is set to pit players against each other in the near future. He uploaded a video of his discovery to both YouTube and his corresponding Twitter account for others to see, as well, on Saturday, March 5.
By clipping through a set of tall wooden doors, McDonald was able to see and explore what appeared to be the inner circle of a coliseum-like location—complete with intricate items such as standing lights, a currently non-functional fountain, and a series of corridors that lead to an arena bordered by stone castle walls.
It has one long hallway from the doors to the arena where players are likely meant to enter. Once standing in the field, there are two lifts—one to the left and right—that could be used to bring up other challengers or creatures to fight. The arena, itself, is a flat sandy circle with piles of weapons strewn about. It is bordered about three-quarters of the way around by tall stone walls that hold a series of grandstands behind them for spectators. The last quarter is left to the open air, implying a cliff's edge that is currently obscured by poor lighting and fog.
Fans were both surprised and excited by the proposal of new content yet to be seen. Some thanked McDonald for "figuring out how to get in there" while others debated whether or not this was truly meant to be multiplayer. A multiplayer item can allegedly be found in the area, which has quickly become part of the information spearheading the rumor.
Unfortunately, we won't know for sure until From Software comes out to talk about it. DBLTAP cannot confirm any plans about a multiplayer PvP Arena-based DLC at this time.