Pokemon GO
Full List of Pokémon GO TCG Cards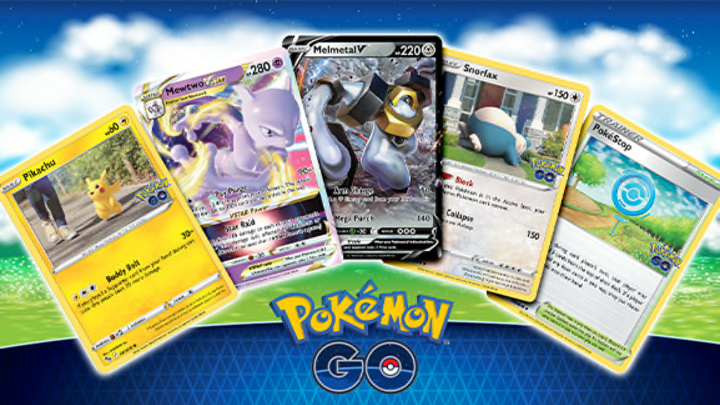 Image courtesy of The Pokémon Company
The Pokémon GO and Pokémon TCG collaboration is well under way. In Pokémon GO, the highlighted Pokémon are roaming around ready for you to catch, featuring Wimpod as well as the iconic Kanto starters. Additionally, the raid Pokémon have been refreshed and event bonuses are available to be claimed.
In the Pokémon trading card game, a new booster set of Pokémon are set to enter packs with a couple of big highlights. Here are all of the Pokémon cards we can confirm are coming to the game soon.
Most of the Pokémon and Trainer cards featured in this crossover are Pokémon that were present from the very beginning in Pokémon GO, or have played a large part in the development in the game. Mewtwo is one of the big highlights of this expansion, being the first Legendary in the game along with the Kanto Legendary bird trio. Additionally, the Kanto starter lines were the first popular Pokémon to get on Pokémon GO when the game first released. Trainer cards are themed around the in-game teams and items. Check out all the cards coming to the expansion below.
Full List of Pokémon GO TCG Cards
Pokémon Cards
#1 Bulasaur
#2 Ivysaur
#3 Venusaur
#4 Radiant Venusaur
#8 Charmander
#9 Charmeleon
#10 Charizard
#11 Radiant Charizard
#12 Moltres
#15 Squirtle
#16 Wartortle
#17 Blastoise
#18 Radiant Blastoise
#21 Magikarp
#22 Gyarados
#24 Articuno
#25 Wimpod
#26 Golisopod
#27 Pikachu
#28 Pikachu
#29 Zapdos
#45 Meltan
#46 Melmetal
#51 Chansey
#52 Blissey
#53 Ditto
#54 Eevee
#55 Snorlax
#56 Aipom
#57 Ambipom
#59 Bidoof
#60 Bibarel

Trainer Cards
#64 Blanche
#65 Candela
#67 Lure Module
#68 Poké Stop
#70 Spark
V Cards
#5 Alolan Exeggutor V
#30 Mewtwo V
#31 Mewtwo VStar
#47 Melmetal V
#48 Melmetal VMax
#72 Mewtwo V
When doing research, it appeared as though not all cards have been confirmed yet, so stay tuned for more updates to the card roster entering the game. Additionally, there is the possibility of secret cards entering the rotation, which you'll only be able to find by purchasing packs yourselves. The Pokémon GO TCG Expansion is set to arrive in stores on July 1.