League of Legends
FunPlus Phoenix Announce Departure of Tian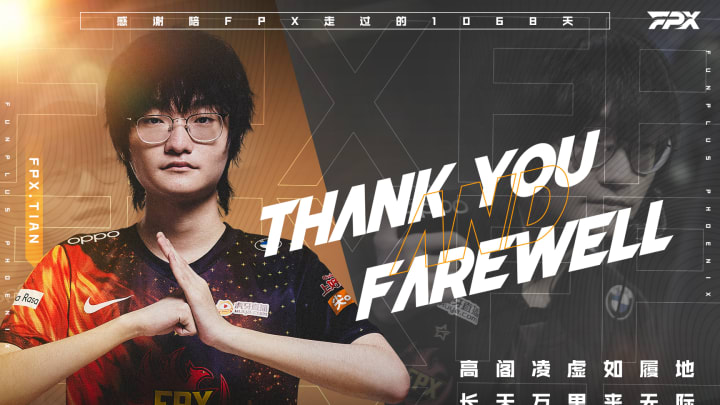 Gao "Tian" Tian-Liang will not be competing for FunPlus Phoenix next season. / Photo courtesy of FunPlus Phoenix
2019 World Finals MVP Gao "Tian" Tian-Liang will not be returning as the jungler for FunPlus Phoenix League of Legends next season, the Chinese organization announced Thursday.
In the midst of what has been a rift-shaking offseason thus far, this news comes one day after FPX announced the departure of a fellow former world champion in top laner Jang "Nuguri" Ha-gwon.
"Today the journey of FPX.Tian has come to an end," FPX said in a statement, "but the story of Gao Tianliang is still waiting for you to write."
Tian, 21, had been a fundamental pillar for the LPL team's success since 2018, a run that saw the top laner lead FPX to 3-0 G2 Esports at the 2019 World Championship final in Paris.
Throughout this past year, Tian notoriously dealt with mental and physical setbacks that impacted his ability to perform.
During the LPL season, Tian was inactive for two subsequent month-long stints due to an ongoing wrist issue that went on to play a role in FPX's disappointing finish at Worlds 2021.
A few days after FPX were ousted in groups in October, former FPX top laner Kim "GimGoon" Han-saem mentioned on stream that Tian played the entirety of this year's Worlds with a wrist injury and "generally poor health."
"Tian's wrist injury is serious and his body health isn't good as well," Gimgoon said according to an English translation on Twitter. "His condition isn't good as his body health isn't good. He didn't want to play it but the situation changed and he must play it. I think he tried his best."
It remains a question whether or not Tian will continue competing in the future, let alone in 2022.
For now, the FPX League of Legends roster remains:
Kim "Doinb" Tae-sang
Lin "Lwx" Wei-Xiang
Liu "Crisp" Qing-Song
Chou "Steak" Lu-Hsi (Head Coach)